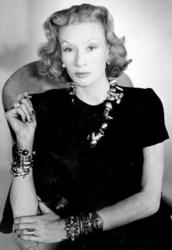 What is most important to me is to have an adventuresome spirit, curiosity, and a willingness to face my fears and do what scares me. –Marsha Mason
Taos, New Mexico (PRWEB) March 05, 2012
Marsha Mason has it, and she'll be there. Millicent Rogers had it. Agnes Martin had it. Beatrice Mandleman, Maria Martinez, and oh boy did Mable Dodge Luhan have it. They had oodles of creativity inspired by the high mountain town of Taos with all of its artistic juju. They were independent and adventurous and the remarkable women of Taos remain this way today. Now is a great time to visit, find your own Taos muse, and experience the magic.
On March 22, 2012 actor Marsha Mason will launch Taos, New Mexico's yearlong Remarkable Women of Taos program at the Harwood Museum in Taos. Remarkable Women focuses on exploring, celebrating and experiencing the exceptional and adventurous women who have been drawn to the freedom and beauty of Taos for decades, particularly artists.
With self-guided tours created for each season available here, you can experience this community-wide celebration of the transformative Taos mystique with behind-the-scenes art tours and a host of gallery and museum exhibitions. The many exhibitions feature an impressive list of remarkable women such as the Taos Modernist Beatrice Mandelman, arts patron and salon hostess Mabel Dodge Luhan, the drop-dead gorgeous high society model, designer and Standard Oil heiress Millicent Rogers, and renowned San Ildefonso Pueblo potter Maria Martinez.
Museums, galleries and institutions with events relating to the 2012 Remarkable Women of Taos & Northern New Mexico include: the University of New Mexico Harwood Museum of Art, the Millicent Rogers Museum, the E.L. Blumenschein Home, Hacienda de los Martinez, Mabel Dodge Luhan House, Mesa's Edge, RANE Gallery, the Parks Gallery, Taos Institute of Glass Arts (TIGA), the Red Willow Market at Taos Pubelo (a UNESCO living world heritage cultural site and National Historic Landmark) and more.
MUSEUM EXHIBITIONS HONORING THE REMARKABLE WOMEN OF TAOS: For a full listing and description of each exhibition, visit http://www.Taos.org/Women
Harwood Museum of Art
Agnes Martin: Before the Grid
February 25 – June 17, 2012
Beatrice Mandelman: Centennial
July 7 – October 14, 2012
Millicent Rogers Museum
Millicent Rogers: The Power to Create, Collect, and Inspire
All of 2012
Maria Martinez: Matriarch of San Ildefonso
January through December, 2012
Millicent Rogers & Her Circle
May 12th – September 2, 2012
Unknown Was A Woman
April – December, 2012
E.L. Blumenschein Home
Out of the Background – The Women Artists of Early Taos
February 10 – May 18, 2012
Barbara Sayre Harmon – Magic and Mystery
September 23 – February 3, 2013
Hacienda de los Martinez
Cultural Threads – Nellie Dunton and the Colcha Revival in New Mexico
June 15 – January 6, 2013
Mabel Dodge Luhan House
Meetings With Remarkable Women
June 1 – 3, 2012
Taos Institute of Glass Arts
The Remarkable Women of Glass Exhibition
Sept 15-October 7, 2012
Remarkable Women of Taos on the Taos Channel.
For media inquiries contact:
Joanie Griffin (505) 261-4444, jgriffin(at)griffinassoc(dot)com
Jennifer L. Hobson (505) 603-8643, jennifer(at)jlhmedia(dot)com