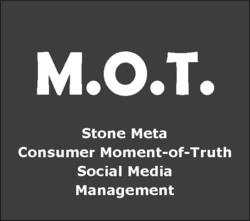 If you're not there, at the MOT, the consumer's likely going to connect with a competitive auto dealer who is.
Crystal Lake, IL (PRWEB) March 06, 2012
Social media strategists Stone Meta Media said today auto dealers following four key MOT guidelines will sell more cars online.
MOT describes the moment-of-truth when consumers move from thinking about making a purchase to acting upon that desire.
These guidelines will help auto dealers be more certain their digital and physical footprint always places them at the consumer's MOT.
"If you're not there, at the MOT, the consumer's likely going to connect with a competitive dealer who is," stresses social media marketing strategist Rob McClurg, CEO of automotive social media management company Stone Meta Media.
"Digital marketing has moved on now, to where simply being on line isn't enough – a dealer must engage consumers in a triage manner, where website, social media and online reviews all connect with the customer at the MOT," McClurg adds.
It used to be consumers made important purchase decisions based on input from their physical social circles – friends and coworkers. Likewise, they once consulted print publications for their reviews of various products and services.
Today, this third-party review process is now through social media, where consumers go online to research products and to seek others' perspectives on everything from kitchen products to restaurants and auto dealerships to auto repair services.
Here's how to meet car shoppers at their MOT:
1. Engage via Facebook: Stone Meta encourages dealers to embrace a swarm and herd social media strategy. Such a strategy makes the site buzz with activity and interest -- managed social conversations, monthly promotions, special coupons and local links which, coincidently, create business opportunities for the dealership.
2. Integrated dealer website: Create the most effective and consumer-friendly and consumer-engaging website you can -- and then make it exceptionally easy for consumers to find it, whether looking for it by make and model or simply searching online using broader keywords. Your website must link to your Facebook site and vice versa.
3. Online reviews and sites: Have a plan and program for monitoring online review sites where your business and/or products are likely to be reviewed. Manage any negative reviews using sound reputation management practices. Use Facebook to post reviews and let fans post reviews as well, ask others opinions about your dealership and the products and services you sell. Consider ways you might link from review sites to your dealership inventory pages; make a review forum available on your website to gather favorable commentary and glean process improvement insight from those that are not.
4. Engage live: Consumer engagement isn't just for online interaction, but must carry over to the moment the consumer walks onto the dealership property. It is one thing to be helpful and cheery online – and that attitude does make a huge impression – but that impression and judgment must continue when the online shopper steps into the store as well. Unfortunately, this is a step dealers often neglect or forget.
About Stone Meta
Stone Meta Media is a professional marketing firm offering a strategic suite of social media management services. The company is headquartered in Crystal Lake, IL. For more information, visit http://www.stonemeta.com or contact Rob McClurg at 815-333-3332.