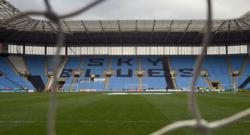 We will test our operations alongside pre-existing systems and the match gives spectators the chance to see the final qualification match for the Men's Olympic Football competition
(PRWEB) March 04, 2012
The final qualifying place in the men's Olympic Football Tournament at London 2012 will be up for grabs in a play-off match to be held at the City of Coventry Stadium on Monday 23 April 2012.
Kick-off is 7.45pm and tickets for the game, which will also serve as an official London 2012 test event, are on sale now.
Senegal's participation is already confirmed after they finished in fourth place in the African qualifying competition, with highly rated captain Stephane Badji looking to fire the West Africans towards their first ever men's Olympic Football appearance.
Senegal's opponents will be the fourth-placed team from the Asian qualifying competition which concludes on 29 March 2012. Australia, Bahrain, Iraq, Japan, Korea Republic, Malaysia, Oman, Qatar, Saudi Arabia, Syria, the UAE and Uzbekistan are the potential opponents.
The Men's Olympic Football Tournament, to be played between 25 July - 11 August 2012, will feature hosts Great Britain, three teams from Asia (AFC), Egypt, Gabon and Morocco (CAF), two teams from North, Central America and the Caribbean (CONCACAF), Brazil and Uruguay (CONMEBOL), and Belarus, Spain and Switzerland (UEFA). Spain last won the competition back in 1992 whilst Stuart Pearce's Team GB have a chance to win Olympic football gold, exactly 100 years since they last won the tournament, in Stockholm in 1912.
Debbie Jevans, Director of Sport at the London 2012 Organising Committee (LOCOG) said: "The Men's Olympic Football Tournament Qualification Play-Off Match is an important part of our preparations ahead of the Men's and Women's Olympic Football Tournament this summer. We will test our operations alongside pre-existing systems and the match gives spectators the chance to see the final qualification match for the Men's Olympic Football competition"
Justine Hewitt, Events Manager at the City of Coventry Stadium, said:
"This will be a great chance for football fans from the region to see exciting young internationals in action in Coventry. We hope as many football fans as possible will come along to watch the game in April – a crucial match for both sides as they fight it out for London 2012 qualification."
Tickets are available by logging on to http://www.theticketfactory.com/footballtournamentqualification or by telephoning 0844 338 800 and from http://www.ticketmaster.co.uk or by telephoning 0844 277 0700.
Tickets are available for the London 2012 Olympic Football Tournament, including matches at the City of Coventry Stadium. View the full competition schedule by visiting http://www.tickets.london2012.com
The first matches at the City of Coventry Stadium will take place on July 25 2012, two days ahead of the London 2012 Opening Ceremony in the capital, and will conclude with the Women's Olympic Football Tournament bronze medal match on August 9 2012.
Notes to editors:
For further information please contact the London 2012 Press Office.
London 2012 Games partners:
The Worldwide Olympic Partners who support the London 2012 Olympic Games and the National Olympic Committees around the world are Coca-Cola, Acer, Atos, Dow, GE, McDonald's, Omega, Panasonic, Procter and Gamble, Samsung and Visa.
LOCOG has seven domestic Tier One Partners - adidas, BMW, BP, British Airways, BT, EDF and Lloyds TSB. There are seven domestic Tier Two Supporters – Adecco, ArcelorMittal, Cadbury, Cisco, Deloitte, Thomas Cook and UPS. There are now twenty-eight domestic Tier Three Suppliers and Providers – Aggreko, Airwave, Atkins, Boston Consulting Group, CBS Outdoor, Crystal CG, Eurostar, Freshfields Bruckhaus Deringer LLP, G4S, GSK, Gymnova, Heathrow Airport, Heineken UK, Holiday Inn, John Lewis, McCann Worldgroup, Mondo, NATURE VALLEY, Next, Nielsen, Populous, Rapiscan Systems, Rio Tinto, Technogym, Thames Water, Ticketmaster, Trebor and Westfield.
There is one domestic Tier One Paralympic Games-only Partner, Sainsbury's and two domestic Tier Three Paralympic Games-only Suppliers, Otto Bock and Panasonic. The London 2012 Paralympic Games also acknowledges the support of the National Lottery.