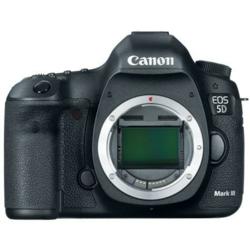 The Canon EOS 5D Mark III, available at Adorama.com, takes the groundbreaking qualities of its predecessor to a new level.
New York, NY (PRWEB) March 02, 2012
Few digital SLRs have been greeted with such anticipation and excitement as the Canon EOS 5D Mark III. The long-awaited successor to the hugely popular Canon EOS 5D Mark II, this new model takes the groundbreaking qualities of its predecessor to another level, updating and improving nearly every key feature. Now available for pre-order at Adorama and Adorama.com—America's most expert supplier of photographic equipment— the Canon EOS 5D Mark III is bound to set a new standard of excellence in the DSLR world.
Featuring a higher-resolution 22.3-megapixel full-frame CMOS sensor, the Canon EOS 5D Mark III delivers a two-stop improvement in image quality over the Canon EOS 5D Mark II, an increase due in part to its new DIGIC 5+ Image Processor. According to Adorama, this means that EOS 5D Mark III images shot at ISO 1600 deliver quality equal to those shot at ISO 400 on the EOS 5D Mark II. The new camera's standard ISO settings now range up to ISO 25,600 vs. its predecessor's ISO 6400. This range is expandable to an ultrasensitive ISO 104,200, allowing the Canon EOS 5D Mark III to capture photographs in the dimmest possible lighting.
The Canon EOS 5D Mark III's astounding autofocus performance is directly inherited from the flagship Canon EOS-1DX. The camera's high-density reticular 61-point AF system provides much faster, more precise focusing than its predecessor; a full 41 of those AF points are the more accurate cross-type. What's more, the new model has a full-resolution framing rate of six frames-per-second, much faster than the 3.9 frames-per-second of its predecessor. The Canon EOS 5D Mark III's shutter is also much quieter, and it features the "silent" mode found on the flagship Canon EOS-1DX. TTL metering is now performed even more accurately with 63 zones vs. 35 in the previous model.
The Canon EOS 5D Mark III also has been endowed with a more contoured, ergonomic body and control layout similar to those of the popular Canon EOS 7D, offering enhanced programmability comparable to that model as well. The streamlined EOS 5D Mark III features better weather-sealing and overall durability compared to the EOS 5D Mark II, while its new, dual memory card slots accept both CompactFlash (CF) and Secure Digital (SD) formats. The camera's "intelligent" viewfinder now shows a professional-level 100 percent of the subject. Even its 3.2-inch, 1.04-million-dot LCD screen is slightly larger and sharper than before, and features improved reflection control.
Of special importance to all the photographers and videographers now using DSLRs to shoot video, the Canon EOS 5D Mark III's full-HD 1080p video is now time-coded. Artifacts have also been reduced compared to before. And in response to Canon photographers' requests, there is now a dedicated button for video recording. Full-HD video can now be shot at sensitivities up to ISO 12,500, expandable to ISO 25,600.
The Canon EOS 5D Mark III is being introduced with a number of new lenses and accessories, all of which will be available at Adorama and Adorama.com. These include three new lenses, the Canon EF 24-70mm f/2.8II USM, the Canon EF 28mm f/2.8 IS USM, and the Canon EF 24mm f/2.8 IS USM. Two new dedicated shoe-mount flash units are also available for the Canon EOS 5D Mark III, the Canon Speedlite 600EX and Canon Speedlite 600EX-RT, along with the Canon ST-E3-RT Speedlite Transmitter. Other new accessories include the Canon BG-E-11 Battery Grip, the Canon GP-E2 GPS Receiver, and the Canon WFT-E7 for Wireless File Transfer.
About Adorama: As one of the nation's largest photo retail and mail order suppliers, Adorama has served professional and amateur photographers for 33 years. It has recently expanded its service to the community through online photo education (the Adorama Learning Center and Adorama TV) and on-site workshops, programs that make it a unique industry resource. Adorama's vast product offerings now encompass home entertainment, mobile computing, and professional audio, while its services include an in-house photo lab (AdoramaPix) and pro equipment rental (Adorama Rental Company). Knowledgeable staff and unbeatable pricing make Adorama a one-stop shop for all your photo and technology needs. Visit http://www.adorama.com.
###