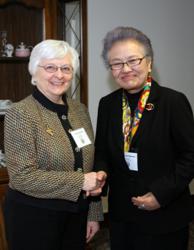 Today's panel discussion demonstrated to us present the commitment they have to this area of nursing. The passion to help others in extreme times of need was palpable and very inspiring.
Chicopee, MA (PRWEB) March 04, 2012
As part of University of Kochi's twelfth annual visit to Elms College, faculty and staff from both colleges met today to discuss disaster response nursing, the nursing profession, and current educational programs. Disaster nursing was chosen as the topic due to the March 2011 tsunami in Japan and June 2011 tornado in Springfield and the response by trained nurses to both disasters.
For the first time ever, University of Kochi President, Hiroko Minami, DNSc, is visiting Elms College. Minami and four additional Kochi faculty members are in western Massachusetts through Saturday. Thursday, Minami and professors Kimiko Nagasawa, Ph.D., Yoko Uchikawa, M.Ed., Takahiro Ioroi, Ph.D., and Ayako Okada, Ph.D., joined Elms College President Sr. Mary Reap, IHM, Ph.D., and members of the Elms faculty and staff, for a presentation on "Pathways to Nursing," which highlighted various nursing programs offered through Elms.
Minami has played an extensive role in organizing resources in response to last year's Tsunami.
Friday morning, the visiting Kochi faculty attended a panel discussion—"Disaster Nursing: Local and Global Preparedness and Response"—the main reason for their visit. The panel was a meeting of nursing minds dedicated to discussing what this type of nursing means for nurses who participate in meeting the challenges of disaster work around the world.
The panel members included Stephanie Bozigian-Merrick, RN, consultant to the Hampden and Hampshire County Public Health Emergency Preparedness Coalitions, first coordinator of the Medical Reserve Corps of Hampden County, who helped with disaster response after the Joplin, Missouri tornado; Mary Allen, RN, public health nurse administrator with the West Springfield Health Department, who helped coordinate the local response to the June 2011 tornado; Robin Neipp, RN, emergency department nurse at Baystate Franklin Medical Center, who coordinates local disaster preparedness and training drills, and assisted with disaster relief in Haiti; and Gina Smith, RN, emergency preparedness coordinator at University of Massachusetts Medical Center and team commander for the MA-2 Disaster Medical Assistance Team.
Assistant Professor of Nursing Christine Schrauf said "Today's panel discussion not only provided these nurse experts with an opportunity to share their experiences in disaster response and the lessons learned from these experiences, but demonstrated to the rest of us present the commitment they have to this area of nursing. The passion to help others in extreme times of need was palpable and very inspiring."
After the discussion, the group toured Mercy Medical Center in Springfield, and learned more about its emergency preparedness plan. They also visited the long-term skilled nursing care facilities at Mary's Meadow at Providence Place in Holyoke.
Elms College is a co-educational, Catholic college offering a liberal arts curriculum that gives students multiple perspectives on life. Founded in 1928 by the Sisters of St. Joseph, Elms College has a tradition of educating reflective, principled, and creative learners, who are rooted in faith, educated in mind, compassionate in heart, responsive to civic and social obligations, and capable of adjusting to change without compromising principle.