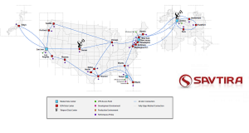 Savtira is building one of the fastest GPU/CPU blade server clustered environments in the world," said Timothy Munro Roberts, Chairman and CEO of Savtira
Tampa. FL (PRWEB) March 02, 2012
Savtira Corporation today announced the launch of 4 of 11 planned Enterprise Cloud Commerce and EDN Application Streaming Data Centers to provide service for the USA and Europe. The active data centers are located in Tampa, San Jose, New York City and Amsterdam.
"Savtira is building one of the fastest GPU/CPU blade server clustered environments in the world," said Timothy Munro Roberts, Chairman and CEO of Savtira Corporation. "Our Data Centers will be able to take on all the challenges of modern cloud commerce and application streaming with ease."
Savtira's eStore clients receive access to an extensive media network that includes comprehensive redundancy, scalability, performance and manageability. Savtira's self-healing hosting environment ensures 99.999% uptime and allows for rapid scalability while allowing for central management. Savtira's network hubs are connected via fiber and termination with DWDM providing 40Gbps of connectivity between data centers. This allows Savtira's network to scale bandwidth as needed to deliver eCommerce and media.
Savtira Corporation is the first ever Cloud Commerce company to use a cost-effective blade environment that processes more streams with a smaller footprint than current streaming providers. All Savtira data centers have UCS servers with blade chassis that hold 16 graphics processing units (GPUs). Savtira's service aims to maximize the blade environment's benefits of scale and to pass those benefits on to its eStore retail clients. Blade servers generate an enormous amount of processing power on a very small footprint. GPUs deliver the same performance as CPU's for 1/20 of the power consumption and 1/10 the cost. Each GPU processor exceeds 400 cores: multiply that times sixteen GPU's and you get a whopping amount of processing power that was only available before by using a very large number of CPU-based systems.
Savtira's Tier 1 and Tier 2 Data Centers are reliable and reach key markets:

99.999% uptime
No single point of failure
Virtualized cloud environment fully meshed between 11 Data Centers for maximum redundancy and seamless failover
Network Operating Center monitoring 24x7/365 through out-of-band network
Point-to-point, meshed, dedicated circuits to provide high-availability of mission-critical sites
Performance-based DNS load balancing
Direct connectivity into over 2,800 commercial buildings
Teleports in key markets for broadcast transcoding and secure IP delivery
SAS 70 Level-2 and PCI Level 1 compliance
Savtira's Data Centers are equipped with high end servers and state-of-the-art components:
Over $5,000,000 of fully clustered hardware per data center
Development, production and staging sandbox in Tampa headquarters data center
11,000MB of private transport to internet Layer 3 to Abovenet
11 PetaBytes of Netapp Storage with real-time replication between all data centers
Clustered Brocade Routers with 10GIG Backplane
Clustered Brocade Switches with 10GIG Backplane
Clustered Brocade F5 Load Balancers
Cisco ASA Firewalls
HP Blade Servers
CISCO UCS Blade Servers
GPU Blade Servers with highest performing NVIDIA cards
"Savtira's Data Centers give retailers and publishers access to advanced storage and streaming technology," said Michael Avina, Chief Technology Officer of Savtira Corporation. " Our clients can focus on growing their business rather worrying about how they are going to securely store data and stream applications and the costs associated with server maintenance and bandwidth."
About Savtira
Savtira is in the business of digital distribution with a Software-as-a-Service (SaaS) ecommerce platform that provides a turnkey system for the distribution, marketing, merchandising, and sale of digital media and physical goods in a single store, and in a single, unified shopping cart. Savtira-powered eStores are designed to meet the specific needs of retail partners and are custom-branded for each one. To facilitate the delivery of digital content, Savtira is building a new-generation, carrier-class Entertainment Distribution Network (EDN), streaming all digital media from the cloud, with a feature set that eclipses anything on the market. The company is headquartered in Tampa, Fla., and has an office location in the United Kingdom. For more information on Savtira, visit: http://www.savtira.com or call 813.402.0123. Follow us on Twitter at: http://www.twitter.com/savtira.
Savtira is a registered trademark. All other product and service names mentioned are the trademarks of their respective companies.
Media Contact
Savtira Corporation
Direct: (813) 440-3841 Fax: (813) 440-3800 http://www.Savtira.com