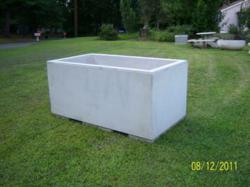 Manchester, CT (PRWEB) March 04, 2012
Dawn Enterprises, LLC in Manchester, Connecticut continues to expand their concrete product line by adding two more planters to the mix. The new 4' and 5' rectangular concrete planters offer industrial strength while providing an attractive and spacious home for your plants. These planters are heavy enough to deter theft and provide additional security and barrier protection for any property, including universities or commercial locations. The planters are also built to last and withstand all weather conditions.
These large concrete planters, available through Dawn Enterprises, can now be found at Central Connecticut State University's new soccer stadium on campus. Stop by the campus in New Britain, CT to see the new planters and support Central Connecticut's Blue Devils! The new soccer stadium is still under construction, but should be completed in time for the 2012 Fall Soccer Season.
For more information on these great new planters, you can contact Dawn Enterprises at 800-262-3296 or via email at info(at)godawn(dot)com. Visit our site at http://www.godawn.com.
# # #