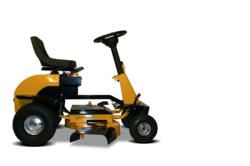 What is great for the environment is that both of these lawnmowers produce no emissions.
Carson, CA (PRWEB) March 06, 2012
The New Recharge Mower G2 and ULTRALITE, from Driven by Solar Inc., are the perfect cordless and eco-friendly lawnmowers to care for your lawn and the environment. What is most exciting is that both mowers use no gas, no oil and produce no emissions. They are both Energy Star rated, no scheduled maintenance and are quiet to operate.
"The G2 and ULTRALITE provide perfect manicured results," says company President Allan Hechtman. "What is great for the environment is that both of these lawnmowers produce No Emissions."
The new cordless rechargeable Recharge Mower G2 riding mower cuts up to 2 acres on a single charge. The 36V85Ah system operates the heavy-duty drive motor along with the 2 direct drive cutting motors. There are no belts, no gas, no oil and no emissions. The Recharge Mower G2 features all steel construction. The 30" cutting deck has 7 selectable height adjustments and the user can choose either side discharge or mulching for a perfect finished result.
The Lithium powered Recharge Mower ULTRALITE weighs in at only 35 lbs. making this lawnmower easy to maneuver and easy to operate. With the lithium battery weighing under 4 lbs. there is no struggle to remove and charge. Using the Energy Star rated charger that accompanies the unit, you can fully reenergize the battery in only a few hours. The Recharge Mower ULTRALITE comes complete with a rear grass catcher and mulching insert. The unit can easily be folded for compact storage or easy transport.
For more details about these Lawnmowers, visit the company website at http://www.rechargemower.com or you can also find them online at many premier retailers including Amazon.com, HomeDepot.com, MowersDirect.com and Sears.com.
Driven By Solar Inc., the company behind the Recharge Mower and Recharge Tools brands and registered trademarks, was established in early 2008. The company is focused on developing, producing and marketing a growing selection of environmentally friendly lawn and garden tools. The company can be reached at Info(at)rechargemower(dot)com or by calling 905-997-9300. The company credo… "A greener lawn. A greener planet." remains well entrenched.