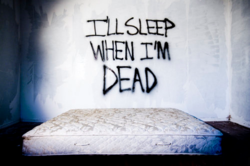 Beds are the container, the cradle, the stage upon which this psychic drama unfolds.
New York, NY (PRWEB) March 05, 2012
How many slept-in beds does the average person see in a lifetime? After devoting a dozen years to sculpting the bed in all its literary and visual forms (see http://www.leahpoller.com "The 101 Bed Collection"), international sculptor Leah Poller's curiosity about where people sleep peaked with this question.
"Perhaps our Puritan society has us reticent about exposing an unmade bed, a highly symbolic and super-charged object. Van Gogh and Matisse chose the subject for paintings now worth millions at auction. And most recently, UK artist Tracey Emins achieved notoriety for exhibiting her own slept-in bed at the Tate Museum. Since I couldn't answer the question myself, I decided to see if people were willing to post their unmade bed pictures on my website ( http://www.unmadebedproject ), and they sure were!," states Poller.
So what does an unmade bed reveal? NY Psychoanalyst Dr. Dorathea Thompson states, "Dreams are messengers from our multi-dimensional Psyche, released and allowed to surface to our waking consciousness in the intimacy of our Bed. Beds are the container, the cradle, the stage upon which this psychic drama unfolds. Our relation and personal ritual with our bed not only informs who we are but also who we are becoming."
In the history of the bed, which is less than 250 years old in its present form, one thing has become clear: just as personality is expressed in the clothes we wear, so the bed tells an enormous amount about each person and provides a rich, unexplored area for social anthropology.
Blogger and Creative Director Chassey Reyes, who worked with Poller on the project launch notes, "Nothing prepared me for the variety, imagination and revelation of each bed image we received. Any one in the bedding business would need to rethink the industry after seeing these images," adds Reyes.
From the minimalist undressed mattress ticking to the most ornate theatrical setting, occupied by the beloved family cat and the scrawled signage serving as a headboard declaring "I will have time to sleep when I am dead," the variety of works submitted is mind-boggling.
Poller's first edition of "The Unmade Bed – A View of Life Between the Sheets" will open this Pandora's box to an unexplored world where dreams, fantasies, passions and aspirations are born between the sheets in our most private, under-exposed space.
It's easy to participate; the first edition of the book is still in preparation. New images are being considered everyday. A tale between two sheets are still being uncovered.
For further information: e: artallny(at)aol(dot)com or 212 274 1704
Youtube: http://www.youtube.com/watch?v=5x_L1VkuK4Y
Web: http://www.leahpoller.com
Web: http://www.unmadebedproject.com
About Leah Poller: http://www.leahpoller.com
Leah Poller was born in Pennsylvania. She received classical training in sculpture at the prestigious Ecole Nationale Superieure de Beaux Arts, in Paris, France. Partaking of a rich, multi-cultural environment, Poller interacted with foremost members of the international arts communities of France, Spain, Italy and Latin America. Returning to the United States in 1992, she established her studio in Soho and began the series of "101 Beds" which has been exhibited in galleries and institutions in Europe, Mexico, and throughout the United States. In 2009 Poller moved to Sugar Hill, Harlem. She has recently concluded a 12-year project - The 101 Bed Collection and is working on several portrait commissions. She has been featured on CNN, Fox Television and in numerous art publications. She has lectured extensively and held workshops on creativity. She was named Director of "Intercambios de Arte y Cultural Internacionale", a not-for profit furthering cultural exchanges between the Americas and spearheading the restoration of a major twentieth century mural, recently discovered to be the work of Philip Guston.
About the Unmade Bed Project: http://www.unmadebedproject.com
Conceived as a global project, NY Sculptor Leah Poller has invited people from around the world to post an image of their unmade bed. The result is one of the most intriguing and comprehensive peeks into a highly intimate space that is rarely exposed to the general public. As social anthropology, it reveals a place/mood/expression of enormous variations and impacts our understanding of intimacy in a never-before exploration of contemporary society. Participants can also record a two-minute dream sequence. The Unmade Bed Project" in book form will be published in Spring 2012.
About Dorathea Thompson: Ms. Thompson is a Licensed Integrative Psychoanalyst in private practice in NYC. She employees a broad spectrum of modalities and is especially adept in working with dreams and imagery in the healing and transformative process.
About Chassey Reyes: http://www.twoandseven.com/
Chassey Reyes is a Junior Project Manager at the Brooklyn based media conglomerate, VIRTUE Worldwide-VICE Media. Reyes is also the creative director of two + seven, an online fashion and art collective that features today's aspiring, young and talented creatives.