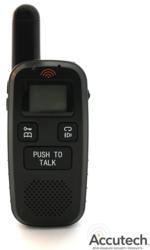 We used to use five different types of two-way radios at our facility. Accutech saved us money by standardizing our radios, and taking all of the work out of obtaining an FCC license. -Flip L., Director of Maintenance
Franklin, WI (PRWEB) March 05, 2012
Today Accutech Security formally announces the introduction of the Accutech Two-Way Radio - a light weight, two-way radio that gives health care facilities an effective, low cost communication tool that also integrates into existing security systems to function as a customizable alarm notification device. Hospitals and long term care facilities are required to have wander management and child abduction prevention systems that trigger alerts when either a resident, newborn baby or toddler gets too close to an exit or restricted area. While these systems ensure the safety of patients who require them, they put an added demand on the staff entrusted with their care and often compound the commotion of an already hectic environment. By easing the ability of a facility's staff to communicate with each other and giving everybody specific information about the location and nature of an alarm, the radio increases the safety and efficiency of health care facilities.
The compact radio is a four and a half inch tall radio that weighs three ounces. This two-way radio decreases the time it takes for the staff of a health care facility to respond to an alarm by sending customizable audio messages to all the radios on the network. By integrating into an existing security system, it also increases safety through redundant alert awareness. When an alarm is triggered, the facility's staff is notified via the radio - wherever they are - exactly what and where the alarm is and can communicate an immediate response - ensuring that someone is responding to the alarm and eliminating multiple people being interrupted to address the same situation.
"The radio's ability to enunciate door alarm locations allows our staff to respond more quickly to an incident. It also saves time by sending an alert when the alarm is cleared, so that we don't have multiple nurses responding after it has been cleared," said Margaret K, Director of Nursing
Alerts recorded to .wav files using a built-in microphone on top of the transmitter unit are sent to the Accutech Radio when an alarm is triggered or cleared. These can be programmed to repeat at customizable intervals until the alarm has been cleared. When the status of the switch/sensor changes, a recorded message is automatically sent to all staff equipped with an Accutech two-way radio. Each transmitter unit connects up to four switches or sensors, and there is no limit as to the number of units that can be integrated into an Accutech security system. Repeaters are also available for the Accutech two-way radios - this means that an integrated Accutech security system can easily cover a health care facility of any size.
"As an industry leader in the infant protection, wander management and pediatric elopement fields, Accutech is dedicated to achieving customer satisfaction through ongoing development, implementation and integration of healthcare security systems," said Josh Williams, President and CEO of Accutech Security. The Accutech two-way radio easily integrates into existing Accutech RFID security systems, which include ResidentGuard for wander management, Cuddles for infant abduction prevention, and Kidz for pediatric protection.
Radio Features:
6-Unit Charger
Each radio comes with an individual charger. In addition, Accutech offers a 6-unit charger that can charge 6 radios and 6 spare lithium-ion batteries simultaneously. The 6-unit charger reduces the need for power outlets and provides a central point for staff to retrieve/return their radio and complete any sign-in/sign-out paperwork, etc. The 6-unit charger also enables a facility to clone a programmed radio onto an unprogrammed radio - allowing for quick and easy additional or replacement radios.
Lithium-ion Battery life
The rechargeable lithium-ion batteries that come with the radio are able to operate for 12 hours on one charge. This means that a single two-way radio can be used across multiple shifts to cover a 24 hour period with one spare battery.
8 talk channels
Multiple channels enable a facility's staff to be setup into different talk-groups, i.e. one for the west wing, one for the east wing, and one channel for managers.
FCC Bandwidth
Accutech two-way radios operate within UHF 450-470 Mhz - the licensed FCC bandwidth. These frequencies are more secure and reduce the risk of cross-talk interference.
FCC Licensing
Accutech two-way radios operate on secure radio frequencies that are regulated by the Federal Communications Commission (FCC). This ensures compliance with HIPAA regulations for patient privacy. In order to transmit on these frequencies, a facility is required to have a license issued by the FCC. Accutech can assist with FCC licensing, including national licensing for health care companies with multiple facilities.
About Accutech
Accutech has engineered, manufactured, distributed and serviced radio frequency identification (RFID) and wireless products since 1985. They are an industry leader in the infant protection, resident wandering and pediatric elopement fields, with ongoing development, implementation and integration of healthcare related security systems. Their markets primarily consist of hospitals, birthing centers, assisted living facilities, skilled nursing homes, sub-acute facilities and even residential homes. All Accutech systems are manufactured in the U.S., and backed by the industry's most comprehensive customer support program.