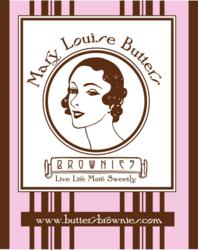 On any given day, a fair number of people here in Austin, Texas will call Mary Louise or even stop her on the street just to tell her how incredibly delightful they've found her brownies to be.
Austin, TX (PRWEB) March 06, 2012
On February 24th at the 2012 Oscars® Gifting Lounge in the luxurious L'Ermitage Hotel of Beverly Hills, celebrity attendees received a delectable ensemble of dark chocolate gourmet brownies laced with uniquely distinguished flavor fusions of rose essence, port wine, crystallized ginger, orange liqueur, chipotle peppers, and salted caramel; with each Butters Brownies flavor accompanied by amusing names such as Aztec God, Kona Buzz, Aphrodite, Bada Bing, Zen, and Hot Lips to name a few. Mary Louise Butters Brownies also creates a surprisingly moist vegan and gluten-free brownie option.
The celebrity guests were delighted to learn that Butters Brownies are made with the freshest high quality ingredients; from hand-cracked eggs and sweet cream butter to wholesome dried fruits and nuts and 99% fine organic chocolate with no added preservatives. Each gourmet brownie is individually wrapped in high quality FDA approved packaging, which assists in preserving a natural shelf life of 2 ½ months, and will freeze perfectly up to six (6) months. Dressed in colorful packaging with an attractive nostalgic logo, these beauties are nestled in a brilliantly designed keepsake gift box with a pull drawer opening. It was voiced by several celebrity guests at the Oscars® Lounge, who were told by other party recipients - a gift box from Mary Louise Butters Brownies was a "must-have" in their swag bags.
Some of the 2012 Oscars® celebrities who received a gift box set of Mary Louise Butters Brownies included: Damian Jones, producer of "The Iron Lady," 2012 Academy Award winner for Best Actress Meryl Streep; Rob Legato Academy Award winner for his masterful special effects for "Hugo"; cast members of the 2012 Academy Award winner "The Artist" for Best Picture, Best Director Michel Hazanavisius, and Best Actor Jean DuJardin; Academy Award nominated special effects team of the "Harry Potter" movies; Kevin Sorbo, Lou Ferrigno of "Celebrity Apprentice", Academy Award nominated Gary Busey, Sophia Milos, Barbara Eve Harris of "CSI", Donna Mills, Ashley Fink & Josh Sussman of 'Glee'; Tony Denison of "The Closer", former James Bond, George Lazenby; the nominated 'pryo' effects team from "Tuba Atlantic" the Norwegian short film nominated for an Oscar®; Andrew Bowler, producer nominated for movie-short "Time Freak"; Haley Nolan of "Glee Viral"; New England Patriots' Bret Locket;t and numerous soap opera cast members including Eileen Davidson, Kate Linder, and Deidre Hall.
Butters Brownies are not just for celebrities. One of their fashionable personalized gift boxes of 6 ($26) or a dozen ($44) accompanied by a hand-written note, is perfect for birthdays, weddings, holidays, thank you gifts, and "just because". Visitors can enjoy choosing from a pre-selected gourmet brownie assortment or create a custom collection of their very own from 20 flavor varietals.
Mary Louise Butters Brownies' coveted creations have been featured on "Rachel Ray" – 'Snack of the Day;' "Food Network" – 'Road Tasted', NBC's "The 'Today Show" – 'One of the best mail-order brownies;' The Deen Brothers' cookbook - "Recipes from the Road;" and "BeE Woman" editor's pick – 'The REAL THING.' Mary Louise Butters has also been recognized at the Sundance Film Festival and made an appearance at the 2011 Primetime Emmy Awards Gifting Suite at the Luxe Hotel on Rodeo Drive in Beverly Hills.
Giving back to the community, Butters Brownies has also assisted several charities with their fundraising efforts, including Breast Cancer Research, Pediatric Cancer Awareness Alliance, Friedreich's Ataxia Research Alliance, and the Performing Arts.
A spokesperson for Mary Louise Butters comments, "On any given day, a fair number of people here in Austin, Texas will call Mary Louise or even stop her on the street just to tell her how incredibly delightful they've found her brownies to be."
Contact Information:
Company contact: Carol Ann FaKouri / 713.553.7272 / carolann(at)buttersbrownies(dot)com
General inquiries: info(at)buttersbrownies(dot)com / http://www.buttersbrownies.com
Social Media:
http://www.facebook.com/ButtersBrownies
twitter.com/buttersbrownies
@buttersbrownies
http://www.youtube.com/ButtersBrowniesTV
# # #