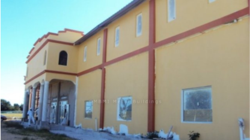 MBMI's decade of dedication shows, MBMI has the largest testimonial list in the industry to prove it!
Delray Beach, FL (PRWEB) March 06, 2012
MBMI Steel Buildings, specialized supplier of metal buildings and accessories, has made an excellent name for itself since its first construction project ten years ago. The company reflects on ten years of high-quality products and excellent customer service, tackling a number of diverse and specialized buildings and accessories. Over the years, MBMI has become a leading choice for the creation of agricultural buildings and riding arenas, homes and garages, commercial and industrial buildings, workshops and warehouses, and even churches and airplane hangars.
In the span of a decade, MBMI has become one of America's premier suppliers of pre-engineered metal buildings and accessories. Its success is greatly due to its stellar team of engineers, draftsmen, detailers, and designers, who together bring over 40 years of experience and know-how in the metal building manufacturing industry. MBMI's customers are from all walks of life—from small farmers to medium businesses to large corporations; its projects are just as diverse, far-reaching, and professionally and individually attended to.
Although the company's home base is located in Florida, the team has long since eradicated the concept of state and even country boundaries, exporting throughout the United States and around the world. American projects include warehouses in Washington, animal shelters in California, community centers and churches in Florida, prefab steel homes in Montana, training facilities in New Jersey, manufacturing and storage buildings in Ohio, riding arenas in Colorado, steel garages in Virginia, car wash buildings in South Carolina, workshops in New York, steel shops in Hawaii, and airplane hangars in Texas.
Amongst the hundreds of international projects, MBMI's leading team has proudly raised a custom design steel warehouse in Anguilla, and delivered a very easily assembled metal church in Togo, Africa. Despite heavy snowfall and rain, an outstanding metal industrial building was erected in Sisak City, Croatia.
For a free quote on a customized steel building visit http://mbmisteelbuildings.com/metal-building-quote or call toll free 1-800-293-2097.
About MBMI Metal Buildings:
MBMI is among the leaders of metal buildings companies in the U.S.A., offering a wide range of excellent services. MBMI specializes in steel buildings, custom designs, manufacturing, and swift delivery. With state-of-the-art technology and first-class engineers, MBMI builds economical custom buildings using only the finest materials available to the industry. The team of engineers, draftsmen, detailers, and building designers offer over 40 years of experience to collaborate in the assimilation of outstanding quality at a great cost.
###