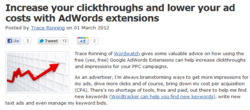 WordTracker already has a ton of great content, we're looking forward to continuing the provide great articles for their readers.
San Jose, California (PRWEB) March 02, 2012
Today, WordWatch released their first article on WordTracker, as part of a series of AdWords strategy posts. WordTracker, in addition to offering keyword research tools, is home to the WordTracker Academy, which hosts several articles on effective SEO and SEM strategies.
WordTracker has been primarily focused on SEO, but with the WordWatch articles they hope to improve their SEM content and the WordWatch team was glad to help.
"I'm excited about the series of posts we're going to be doing with WordTracker, they've got a lot of quality content on the site already, so it's an honor to be able to contribute new articles for their readers, " Media coordinator of WordWatch, Trace Ronning said.
Today's entry is an article about Google AdWords extensions and how they can improve the CTR of advertisers' AdWords campaigns. The next article in the series will be about mobile PPC campaign strategies.
About WordWatch:
Founded in 2009, WordWatch is an online AdWords bid management application designed for small business advertisers, marketing consultants and freelancers, and small agencies. The application simplifies the daily management of keyword bids and constantly optimizes a customer's AdWords account. WordWatch has offices in San Jose, Amsterdam and Krakow.
Related Links
http://www.wordwatch.com
http://www.wordtracker.com/academy/adwords-extensions
###