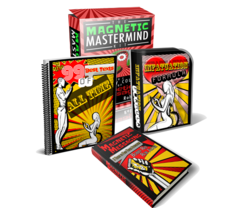 Most men are simply lost when it comes to using their phones effectively, says Bobby Rio.
Hoboken, NJ (PRWEB) March 05, 2012
Texting a Girl- an online men's site dedicated to the art of text messaging in the dating world- has released a brand new program called Magnetic Messaging.
There is no denying the huge role text messages play in the modern dating environment. It is the number one form of communication for the 18-25 demographic. Magnetic Messaging aims provide answers for men wondering how to text girls, how to turn phone numbers into dates, and how to keep attraction alive with the push of a button.
The ebook, co-created by dating coaches Rob Judge and Bobby Rio, came after their students basically demanded the knowledge.
"Most men are simply lost when it comes to using their phones effectively," says Bobby Rio. "It got to the point where 75% of our coaching calls revolved around the topic of texting women."
Magnetic Messaging focuses on core elements men struggle with the most. Some of the topics that are covered in the ebook are: text flirting, how often to text a girl, what types of messages to send, how long to wait to respond to a text, what types of pictures to send, and much more.
The USP of the ebook is The Key Lock Sequence. The big idea behind Magnetic Messaging is that it should not take more than three text messages to get a woman out on a date.
"It was very easy coming up with topics for the book," says Bobby Rio. "Because our in-boxes are perpetually full with questions from guys in the middle of a 'text dilemma'. That's the thing with the subject of texting. There is a major urgency to it. Because guys know one text can make or break your chances with a woman."
Most of the ebook is based off of research done by co-creator Rob Judge. Rob, who lives in New York, claims to have slept with over 100 women, and used his experience texting these women as the basis for this guide. The guide also includes exact transcripts of text message exchanges he had with various women over the years.
The ebook is delivered electronically, and comes with other "bonus" material such as a PDF titled "The 99 Best Texts of All Time" and a video program called "The Infatuation Formula." The program is also covered by an unconditional 60 day money back guarantee.
"Our goal was to make this the ultimate guide on the art of texting women. Because it really is an art form." Says Bobby Rio.
Both Bobby Rio and Rob Judge have other dating and relationship products for sale. Bobby Rio is the founder of popular men's lifestyle site TSB Magazine. Rob Judge is the founder of Date Hotter Girls.
You can learn more about Magnetic Messaging here: http://www.magneticmessaging.com
###