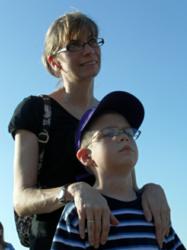 My 7-year-old son is an amazing child that decided after last year's relay event that we should have our own team
Tampa Bay, Fla., (PRWEB) March 06, 2012
Team "Scooby Doo" has already participated in Relay For Life for the past four years; however, this is the first year Sharin and 7-year-old son Thomas Cerniglia will lead their own team on April 13, 2012 to be held at 6:00PM at Palm Harbor University High School. The mother-son duo decided it was time to raise awareness and take the next step. After suffering the loss of a family member, (Sharin's mother and Thomas' grandmother) due to uterine cancer, the two made it their mission and passion to fight against this unfair disease.
The two recently held a fundraiser called 'Create for a Cure', where local artists taught guests how to paint a wine glass and make a decoupage box. The event raised over $300 contributing to the $3 billion that the American Cancer Society raises world-wide every year.
"My 7-year-old son is an amazing child that decided after last year's relay event that we should have our own team. He said 'We need our own team and make [RFL] even better!' We hope to inspire others to join us in the fight against cancer," commented Sharin Cerniglia.
Sharin and Thomas plan to hold a Chinese auction, beverage and bake sale with games to help fundraise at the 2012 Relay For Life event. To view a Dunedin Patch article describing Thomas' efforts last year, visit dunedin.patch.com/articles/whiz-kid-6-year-old-makes-video-campaign-for-relay-for-life and to make a donation or to join Thomas' relay team, visit main.acsevents.org/site/TR/RelayForLife/RFLFY12FL?px=9138823&pg=personal&fr_id=37593.
To see Thomas at the 2011 Relay For Life, visit http://www.youtube.com/watch?v=VoOx8H0DLVg.
To find out more information about Relay For Life Palm Harbor, FL, visit http://www.relayforlife.org/palmharborfl.
About Relay For Life:
Relay for Life is the American Cancer Society's signature fundraising event, and is driven by volunteers. Relay for Life began in 1985 when colorectal surgeon Dr. Gordon Klatt decided to raise money for the American Cancer Society in honor of his patients by walking around a track in a 24 hour period. Today, Relay For Life events are held in more than 5,000 communities spanning 21 countries and have raised an estimated over $3 billion. All proceeds go to funding cancer research with the aims of stomping out the disease. In addition to fundraising, the event also raises awareness of the disease and furthers the American Cancer Society's efforts to save lives by helping people stay well, helping them get well, and by finding cures and fighting back. More information on Relay for Life is available at http://www.relayforlife.org.
About the American Cancer Society:
The American Cancer Society is a nationwide community-based voluntary health organization dedicated to eliminating cancer as a major health problem by preventing cancer, saving lives, and diminishing suffering from cancer, through research, education, and advocacy. The American Cancer Society is the nation's largest non-governmental investor in cancer research, contributing about $3.4 billion to date. As a result, more than 11 million people in America who have cancer will be celebrating their next birthday. To learn more about the American Cancer Society, visit http://www.cancer.org.