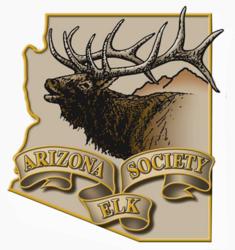 The Arizona Elk Society is auctioning off an unprecedented four Arizona Game and Fish Commission Special Tags
Phoenix, AZ (PRWEB) March 04, 2012
The eleventh annual Arizona Elk Society Banquet is Saturday, March 24, 2012. The Arizona Elk Society is auctioning off an unprecedented four Arizona Game and Fish Commission Special Tags. Special Tags include elk, antelope, buffalo, and Gould's turkey. A Gould's turkey tag is the most difficult turkey tag to draw in the U.S. Gould's turkeys only inhabit Southeastern Arizona and a small section of Southwestern New Mexico.
In addition to the Arizona Game and Fish Commission Special Tags, other auction items include over 70 guns, bows, camping equipment, fishing trips, big game trips, and jewelry.
One of this year's auction highlights is an exclusive bull elk hunt on the Hualapai Reservation. The hunt offers a rare opportunity to explore one million acres of the Hualapai Reservation with spectacular views of the Grand Canyon. In addition, no other hunters will be in the field for 10 consecutive days of this hunt. The recipient of Hualapai Reservation hunt can use a rifle, bow or muzzleloader and bring one non-hunting companion. Hunting license, permit, tribal hunting guide, lodging, food, and transportation are included.
The auction will be at the Mesa Convention Center, 263 North Center Street, Mesa, AZ. Happy hour starts at 4:00 p.m. followed by dinner at 5:30 p.m. The evening includes a live and silent auction and raffle prizes. Individual tickets are $70.00 per ticket and corporate tables can be purchased for $1,600. Tickets are available on line at http://www.arizonaelksociety.org. Tickets will not be sold at the door.
All of the money raised from the banquet stays in Arizona. Proceeds benefit elk and other wildlife through habitat conservation and restoration while preserving Arizona's hunting heritage for present and future generations.
Proceeds from the Special Tags raise money for wildlife and wildlife management in Arizona. One hundred percent of the money raised for each species is returned to the Arizona Game and Fish Department with all funds managed by the Arizona Habitat Partnership Committee (AHPC) for that particular species. Input from local habitat partners across the state and organizations involved with the fundraising collectively determine which projects will provide the most benefit to each species represented. Marketing costs are covered by the sponsoring wildlife organization.
About the Arizona Elk Society
In 2001, the Arizona Elk Society (AES) was formed by a group of concerned Arizona sportsmen that saw a need for a state organization to raise funds and keep the money in state to benefit Arizona's elk herds and continue the hunting heritage. In the last 11 years, the Arizona Elk Society has raised over $4 million dollars, funding hundreds of wildlife habitat projects that have improved well over 350,000 acres. The Arizona Elk Society's youth programs have reached out to thousands of kids across the state. AES has developed relationships that help shape elk management and habitat improvements with numerous agencies, including the Arizona Game and Fish Department, U.S. Forest Service, U.S. Fish and Wildlife, Arizona State Lands Dept., many counties, and ranching organizations. For more information, visit http://www.arizonaelksociety.org.