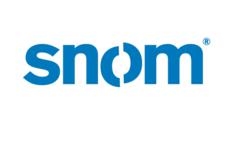 London, UK (PRWEB) March 06, 2012
snom, a provider of IP telephony solutions and a Microsoft Gold Certified Partner, will be joining Microsoft Corp. and other members of the Microsoft Lync Hosted Pack Reference Architecture Partner Ecosystem at UC Expo in London to demonstrate the compatibility of the snom UC edition range of desktop IP phones with Microsoft Lync
"There are a multitude of unified communcations scenarios where telephony users require standalone fixed desktop or wall-mounted phones as an alternative to a softphone on a PC. The snom 300 entry-level IP phone, snom 370 and the snom 821 advanced IP phone have undergone Microsoft interoperability testing to achieve qualification status and help bring additional layers of functionality and productivity to a Microsoft Lync UC environment," states Dr. Michael Knieling, snom's COO. "snom's UC edition devices are a great choice for use with hosted unified communicatons and collaboration solutions such as the Microsoft Lync Server 2010 Multitenant Pack for Partner Hosting. Their dual IP and UC compatibility provides a fully-featured handset that is compatible with whatever platform it is paired with."
Microsoft Lync Server 2010 Multitenant Pack for Partner Hosting is a unified communications hosting solution for telecom and hosting providers. It builds on the underlying Microsoft Lync Server 2010 platform to provide carriers and service providers with a complete unified communications service solution, allowing them to offer their customers seamless integration between communication and productivity tools and create a highly-collaborative team environment with improved organizational flexibility.
"The snom UC edition endpoints provide users with an added layer of voice functionality," explains Warren Barkley, general manager for Lync at Microsoft. "Thanks to their seamless compatibility with the Microsoft Lync Hosted Pack, the snom devices make it possible to extend voice and presence features to a variety of additional areas of business. This makes the snom UC edition a key component of the Microsoft Lync Hosted Pack Reference Architecture Partner Ecosystem."
snom's devices that are Microsoft Lync Server 2010 Multitenant Pack for Partner Hosting compatible include the snom 300 UC edition, the snom 370 UC edition and the snom 821 UC edition, which are all certified as 'Qualified for Microsoft Lync'. snom will be demonstrating these devices at UC Expo 2012, 6-7 March, on stand 717 in the Microsoft Partner Village as well as on the Microsoft stand (721). The devices will be set-up in a Microsoft Lync environment on both the snom and Microsoft stands, allowing visitors to experience first hand the benefits of snom's UC edition portfolio and unified communications applications.
For more information on snom's range of unified communications and collaboration (UCC) solutions, please visit the snom website.
Please note: All product and company names herein may be trademarks of their registered owners
For more information about snom in the Americas, please visit us at http://www.snomchannel.com; follow us on Twitter at http://www.twitter.com/snom; like us on Facebook at http://www.facebook.com/snom.VoIP.phones; or join our LinkedIn group at http://www.linkedin.com/groups?gid=1773766.
About snom
snom technology AG develops and manufactures VoIP telephones and related equipment based on the IETF open standard, SIP (Session Initiation Protocol). Recognized for its high-quality, customizable and cost-effective business solutions, snom is also differentiated by the company's history in the VoIP industry and its dedication to high security standards. All of snom's products, from desktop phones to IP PBXs, are designed to be fully interoperable with leading communications equipment vendors. snom customers benefit from the interoperability and flexibility that the snom telephones offer, including plug-and-play integration and universal compatibility with any SIP-based telephony platform. In September 2011, the snom 300 and the snom 821 were the first SIP phones which were officially tested and qualified as interoperable with Microsoft Lync™ by Microsoft.
Founded in 1996 and headquartered in Berlin, Germany, snom technology AG also has offices in Italy, France, the United Kingdom and the US. For more information on snom, please visit http://www.snom.com.
Media Contacts
snom - North America
John Gates/Mark Baizen
Elevate Communications
+1 (617) 861–3651/3680
john(at)elevatecom(dot)com
mbaizen(at)elevatecom(dot)com
Mike Storella
snom technology, Inc.
18 Commerce Way, Suite 6000
Woburn, MA 01801
(781) 569-2044
mike.storella(at)snom(dot)com
snom - Global
Heike Cantzler
Christian Baier
snom technology AG
D-10117 Berlin
Germany
+49-30-39833-103/106
heike.cantzler(at)snom(dot)com
christian.baier(at)snom(dot)com