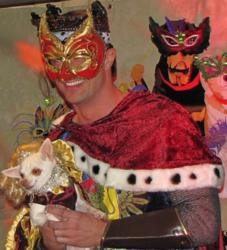 The primary reason I wanted to support the show was because its goal was to raise awareness and funds for the AC&C of NY.
New York, NY (PRWEB) March 06, 2012
Prince Lorenzo Borghese, an animal activist and founder and president of Royal Pet Club, was on hand at the Pre-Westminster Fashion Show held at the Hotel Pennsylvania in Manhattan, to help raise more than $20,000 for Animal Care and Control of New York City.
Borghese's Royal Treatment line of products were named the official grooming line of the Pre-Westminster Fashion Show. The show is an annual highlight preceding the Westminster Kennel Dog Show, where some 2,500 top dogs representing 185 breeds assemble to determine the best of the best.
The furry fete's Venetian masquerade theme by Ada Nieves inspired elaborate costumes for the pooches and their people; a multiple dog wedding, followed by the exhibitors' runway show and awards ceremony. Borghese was crowned 2012 Pre-Westminster Fashion Show King and Fashion Designer Roberto Negrin won the Pet Designer of the Year award.
The approximately 600 high-fashion pooches and dog lovers in attendance are a stark contrast to the 40,000 rescued animals taken care of by Animal Care of Control of New York City each year. The non-profit has been operating since 1995, and is contracted with NYC to manage the City's municipal shelter system.
Borghese's Royal Pet Club recently partnered with Animal Aid, a not-for-profit animal rights and rescue agency, to provide funding to animal shelters in low-income areas. He became involved with the Pre-Westminster party and fashion show to help draw attention to Animal Care and Control of New York City, the largest animal shelter in the Northeast.
Donations to Animal Care and Control have dwindled in recent years, a reflection of the tough economic times. Borghese is committed to doing what he can to help raise the funds that the shelter depends on to remain operational. This event was also filmed for a new show that follows Lorenzo around as he opens the door to the Royal Treatment empire giving viewers an inside look of what it's like to run a pet company.
"The primary reason I wanted to support the show was its goal was to raise awareness and funds for the AC&C of NY," Borghese said. "Since funding has decreased this past year, it seemed even more critical to get involved with this important event."
About Prince Lorenzo Borghese and Royal Pet Club:
Prince Lorenzo Borchese, founder and president of Royal Pet Club and Royal Treatment Italian Pet Spa, is passionate about the well being of animals everywhere. His line of pet-friendly organic products were originally created for his beloved Black Lab, Belle. For nine consecutive years, Royal Treatment has been the most successful pet line on the HSN shopping channel. A vocal advocate of spaying and neutering programs, Borghese donates five percent of Royal Pet Club profits plus $2 for every new customer to Animal Aid to support spay and neuter programs across the U.S. Through this program, families unable to afford the cost of having their dog spayed or neutered will be able to have the procedure done for free by a top veterinarian in their community.
Borghese's line of Royal Treatment products were developed to support pet wellness with premium, natural dog shampoos, conditioners, and other luxury pet grooming supplies.
Borghese's Royal Pet Club is the online destination for the Royal Treatment line's natural pet spa and wellness products. Made from the finest organic ingredients and fragrance oils, Royal Pet Club's pet grooming products have been developed with the help of leading cosmetics manufacturers, world-renowned veterinarians and other pet experts from around the world. Formulated in a cosmetics laboratory on the outskirts of Tuscany, Italy, all Royal Treatment grooming products are pH balanced for pet's sensitive skin.
Borghese has worked with numerous animal welfare organizations including North Shore Animal League, the ASPCA and Animal Care and Control of NYC. He is co-founder of NYC4ACC, a group of young professionals who organize fundraisers for this city shelter, and an ambassador to the American Humane Association.
Borghese recently co-chaired the Humane Society of America's live paddle auction with its CEO, Wayne Pacelle, and together they raised $250,000 for the Animal Rescue Team. He is President of Take Me Home Events, Inc., and Shelter Aid, LLC.
For more information, visit the Royal Pet Club website, or Email John Falkenberg at john(at)royalpetclub(dot)com.