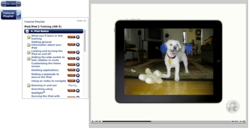 The Atomic Training library is the key to improving productivity and reducing downtime
Portland, OR (PRWEB) March 05, 2012
OpenSesame (http://www.OpenSesame.com), the elearning marketplace, is pleased to announce that its elearning marketplace now features dynamic video training content from Atomic Training.
Atomic Training is an industry-leading provider of technology training resources, with more than 45,000 tutorials on technology tools and software platforms. Both organizations and individuals rely on Atomic's training resources to unlock the potential of tools like Microsoft Office, Adobe Creative Suite and mobile devices.
OpenSesame is an ecommerce marketplace for off-the-shelf online training courses. eLearning buyers visit the OpenSesame marketplace to shop from more than 10,000 courses, read customer reviews, watch previews and make purchases they can use instantly.
"One of the biggest challenges our customers face is finding simple, short and easy-to-use resources about the technology tools their employees use everyday," said OpenSesame CEO Don Spear. "The Atomic Training library is the key to improving productivity and reducing downtime while employees search for resources."
"We rely on our distribution partners to make sure our content and tools reach a worldwide audience," said Atomic Training Director Clay Moore. "Working with OpenSesame's dynamic team lets us focus on creating great content that solves real workplace challenges, instantly."
In addition to its innovative marketplace model, OpenSesame has launched a new purchasing model, where customers pay only for the courses that their employees actually use. This enables customers to target their spending and eliminate waste from their training budgets.
About OpenSesame
Based in Portland, Oregon, OpenSesame is an open marketplace connecting elearning buyers and sellers. Buyers browse thousands of courses in a wide variety of subjects from workplace safety to business skills, all compatible with any learning management system. For more information, visit http://www.OpenSesame.com or follow @OpenSesame on Twitter.
About Atomic Training
Atomic Training provides online on-demand software training to help businesses and organizations fulfill technology training and development goals. Atomic Training offers more than 45,000 how-to tutorials on over 140 popular software tools, from Microsoft Office to Apple's iOS interface. For more information visit http://www.AtomicTraining.com.