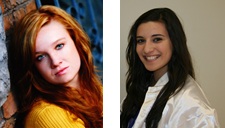 Highland Park, Ill. (PRWEB) March 05, 2012
A senior who started a nonprofit to combat hunger in her community and a self-taught computer programmer who designed a unique sports software program were awarded college scholarships of $5,000 each by Cappex.com, the leading online destination for finding colleges and scholarships.
The Lead with Your Heart scholarship competition seeks students who have donated their time to make a significant impact in their communities and beyond. Camille Posard of Encinitas, Calif., was selected as the 2011 winner. Posard founded the nationally recognized nonprofit ''Donate Don't Dump'' to address the growing issue of families struggling to put food on their tables in her community.
Upon learning that active military members at Camp Pendleton were relying on charities to feed their families, Posard took up the cause. She filmed a local news story encouraging people in the community to donate their excess food instead of throwing it out. The story garnered both local and national attention, and Posard was offered funding to create a documentary on the issue. Along with classmates, she then spent a year filming and producing ''One in Seven, The New Face of Hunger.'' The film went on to win the California Competition at the 2011 Yosemite Film Festival.
"It feels amazing when something you care about passionately takes off and people get inspired. Winning this scholarship from Cappex showed me that others believe in this cause and that I'll be able to make even more of a difference in the future," Posard said about the experience. Donate Don't Dump now has 11 chapters nationwide, with plans to expand in the coming years.
The High School Innovator of the Year scholarship competition looks for students who have invented a new product or concept that made an impact on their fellow students and community. Remington Maxwell of Penn Valley, Calif., was selected as the 2011 winner. Maxwell created the ''Put Me in Coach Dugout Chart,'' a computer program that allows baseball and Little League coaches to organize, edit and communicate players' positions for each inning.
Maxwell got the idea for the program when her father, a Little League coach, mentioned that his players were often confused when their positions were substituted or changed. Determined to find a solution, Maxwell taught herself the computer coding skills necessary to create a team positioning program. After three years of research and testing, the ''Put Me in Coach Dugout Chart'' was complete. Her father soon came to rely on this tool at every game.
"Cappex has not only helped me financially, but has given me confidence in myself and my abilities. This Cappex scholarship will give me the opportunity to fulfill my dream of helping others through computer technology," Maxwell said about her win. She is now beginning to market her program to other coaches through her website, putmeincoachproducts.com.
"We started these two scholarship opportunities to recognize high school students who have really gone above and beyond to make a difference in their communities," said Chris Long, Cappex president. "Camille and Remington show that with dedication and hard work, one is never too young to make a significant impact on the world around them. We are excited to contribute to their upcoming college careers with these scholarships."
About Cappex.com
Cappex.com is a comprehensive college search and scholarship portal that helps students and parents make college decisions. In addition to more than 3,000 college profiles with student reviews and college admission prediction tools like the What Are My Chances® Calculator, Cappex.com allows parents and students to find their match from thousands of scholarships offered by companies and organizations around the U.S. Cappex also provides $11 billion in college-offered scholarships. With more than 3.5 million student users, Cappex.com is the trusted source to help students find their ideal college fit, and where hundreds of colleges from across the U.S. and beyond go to connect with prospective students.
# # #