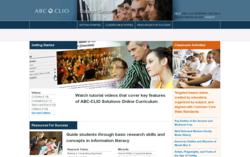 The ABC-CLIO Solutions Support Center provides the foundation for a model of successful implementation of a 21st-century teaching and learning environment for school district classrooms and libraries.
Santa Barbra, CA (PRWEB) March 05, 2012
ABC-CLIO, an award-winning publisher of print and electronic library and online curriculum resources, is pleased to announce that an online support center is now available to subscribers of our award-winning curriculum databases used by school districts. The announcement was made from the floor of the California Council for Social Studies (CCSS) Annual Conference held in Anaheim, CA.
"The ABC-CLIO Solutions Support Center provides the foundation for a model of successful implementation of a 21st-century teaching and learning environment for school district classrooms and libraries," stated Becky Snyder, President of ABC-CLIO. "We are committed to helping our customers maximize the value, service, and success they experience using our authoritative, digital content in the social sciences. This announcement further strengthens this commitment."
The Solutions Support Center is the first in a series of professional development offerings available to customers. Content that resides in the Support Center guides teachers and students in using the advanced functionality of the 14 award-winning ABC-CLIO Solutions databases to support inquiry-based research and learning. These web-based, digital solutions for the social sciences integrate a comprehensive and fully integrated topic-specific reference library, a standards-based curriculum textbook, and a collection of model perspectives from experts that expose students to a variety of historical points of view and help them develop information literacy skills, write informed essays and practice critical thinking at deeper levels.
In addition to understanding the functionality of the online Solutions, the Support Center also includes videos and interactive wizards on topics such as: Making a Compelling Argument, How to Write a Book Review or Position Paper, How to Prepare an Oral Speech or Presentation, and many other topics that support the integration of information literacy, subject content, and skill development. Subscribers to the Support Center also have access to over 100 Common Core–aligned lesson plans along with supporting research lists of primary resources. Additionally, The Reading Room provides full-text e-books of interest to teachers and librarians, equipping readers with the information needed to be effective in 21st-century schools.
"I am excited to leverage this new resource to help all of teachers in my district," cited JoAnn Conlon, Director of Innovative Resource Media Systems, Spring Branch ISD near Houston, TX. "We know that when professional development and deep implementation occurs, student achievement drastically moves because of improved teacher effectiveness. The ABC-CLIO Solutions provide an extremely cost-effective solution for us to have a 21st-century blended learning environment. And now, they have made our decision to utilize these Solutions even more attractive."
The ABC-CLIO Solutions Support Center is free to subscribers of any of the online Solutions databases. For non-subscribers, the Center is offered for $39 per year, per teacher.
For more information on this exciting new offering, or to schedule a demonstration of this new offering, visit http://www.abc-clio.com or call 800-368-6868.
About ABC-CLIO
Founded in 1955, ABC-CLIO is an award-winning publisher of reference titles, academic and general interest books, digital resources, and books for librarians and other professionals. The company, headquartered in Santa Barbara, Calif., publishes under four well-respected imprints. ABC-CLIO Solutions are online resources that offer authoritative, continually up-to-date coverage of essential topics in U.S. history and government, world history, geography, and a range of multicultural and popular culture subjects. Created specifically for students in middle and high school, higher education, and public library settings, ABC-CLIO's suite of 27 online solutions provide comprehensive, authoritative reference content; gives students a deeper understanding of coursework, and has critical thinking explorations of over 500 scholarly dilemmas that challenge student to think critically and reach their own conclusions. ABC-CLIO/Greenwood Press are recognized as industry-leading providers of the highest-quality reference materials. These imprints offer authoritative scholarship and innovative coverage of history and humanities topics, covering American and world history and government, military history, popular culture, multiculturalism and diversity, religion and mythology, contemporary issues, health and wellness, and business and psychology. Praeger is widely regarded for scholarly, professional, and general interest books and eBooks in the social sciences and humanities, with emphasis on contemporary thought in business and economics, psychology, health and wellness, current events and social issues, modern history, military studies, and politics. Libraries Unlimited/Linworth has long been the librarians' and media specialists' source for textbooks and professional development materials. For more information, visit http://www.abc-clio.com.
# # #