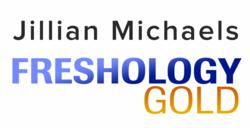 I've always believed that a healthy lifestyle is achievable through simple but meaningful changes and a sincere dedication to eating right," said Jillian Michaels.
Los Angeles, CA (PRWEB) March 06, 2012
Freshology – the leading purveyor of healthy, home-delivered, fresh meal programs and products in the U.S. – in partnership with renowned health and wellness expert Jillian Michaels, announces the debut of Jillian Michaels Freshology Gold, The MasterPlan– a calorie-controlled, all-natural, hand-crafted gourmet meal program delivered directly to clients' doorsteps nationwide.
Jillian Michaels Freshology Gold home meal delivery and healthy living program offers a hand-crafted gourmet, calorie-controlled program from Freshology featuring meals prepared with all-natural proteins and the finest ingredients available, for optimal taste and greatest nutritional benefit. The program includes an exclusive menu with many of Jillian's favorite recipes right from her NY Times bestselling book Master Your Metabolism and Master Your Metabolism Cookbook, which were then created by the culinary artists at Freshology in a state-of-the-art kitchen. Jillian Michaels Freshology Gold features a comprehensive program called The Master Plan, consisting of portion-controlled meals including breakfast, lunch, dinner and dessert delivered fresh to clients' doorsteps nationwide. In addition to an all-natural, fresh, home delivered meal program, clients can also expect help in maintaining a healthy lifestyle through fitness DVDs from Michaels, as well as fitness tips, inspirational messaging and a copy of her NY Times bestselling book, Master Your Metabolism.
"Jillian has inspired millions of Americans to achieve a state of health and well-being they never believed possible," said Todd DeMann, Founder and CEO of Freshology. "Her mission perfectly aligns with Freshology's commitment to providing consumers a healthy dining program designed for weight loss. We couldn't be happier to work with her in developing a collaborative gourmet, all-natural, meal program based upon the principals from her best-selling book in conjunction with the system that we currently have in place and the loyal following we have developed over the last 6 years."
Jillian Michaels Freshology Gold offers clients a customizable program for men and women, delivering creative menus that rely on premium ingredients, all-natural lean proteins, low glycemic fruits, vegetables and whole grains. The fresh meal delivery program is available at $47.95 per day for female clients, with a range of 1150-1400 calories, and $49.95 for male clients, with a range of 1600-1800 calories per day.
"I've always believed that a healthy lifestyle is achievable through simple but meaningful changes and a sincere dedication to eating right," said Jillian Michaels. "Jillian Michaels Freshology Gold takes the guesswork out of dieting and eating right, and makes healthy choices easy and accessible. It's like having your own gourmet chef cooking for you daily. It doesn't get any easier than that. I am thrilled to partner with Freshology in bringing these convenient, healthy, fresh meal options to people striving to lead healthier lives. "
To order Jillian Michaels Freshology Gold or learn more about the home meal delivery program's options and details, visit http://www.freshology.com or call 877-893-7374.
About Freshology:
As the nation's premier gourmet, home meal-delivery service, Freshology serves health-conscious consumers throughout the U.S. with delicious, epicurean meals designed to aid in losing weight and maintaining a healthy lifestyle via its national programs Freshology Gold, Getslim Silver and Fresh Mommy. All of Freshology's Southern California-based calorie-controlled programs – Fresh Dining,Fresh Lite, Fresh Mommy, Lifestyle and Whole Family – pair great-tasting, gourmet dishes with healthy ingredients and are delivered toclients' doors daily. Certain Freshology meal programs can be customized based on weight loss goals, likes and dislikes and medical requirements. Freshology receives consistent national media attention for its celebrity appeal, weight loss success stories, and hand crafted meals by Culinary Artists in outlets including Woman's World, People Magazine, US Weekly, In Touch Weekly and OK! Magazine, among others.
About Empowered Media
Empowered Media, LLC operates the Jillian Michaels wellness brand. Co-founded by Jillian Michaels and her business partner, Giancarlo Chersich, the company operates as life architects whose sole mission is to inspire individuals to empower themselves to seek healthier, active lives. The products marketed are part of the total life solution platform created by the Jillian Michaels philosophy. America's premier health and wellness coach, Michaels is a New York Times best-selling author, entrepreneur and popular television personality. Michaels is also a passionate advocate, fighting to invoke important changes in all aspects of health and wellness. Michaels' newest bestselling book, UNLIMITED: HOW TO BUILD AN EXCEPTIONAL LIFE, is available now wherever books are sold. For more information about Jillian Michaels please visit http://www.jillianmichaels.com.