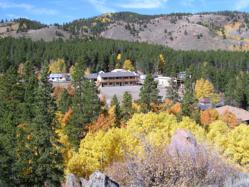 Whether you are an owner operator or an investor, this business is simple to manage and operate, plus the investment potential is backed up by the value of the assets
Denver, Colo. (PRWEB) March 04, 2012
Albany Lodge, a year-round destination resort 25 miles west of Laramie, Wyo., is being offered up for sale. Mason Morse Ranch & Farm Company – an affiliate of United Country Real Estate located out of Glenwood Springs, Colo., has been chosen as the listing brokerage for this mountain recreation business
Albany Lodge sits on roughly two and a half acres where the lodge, motel, rental office/shop, rental storage, bunkhouse, house, cabins, and storage barn are located. The land is improved with a waste water treatment plant, public water system and parking lot. Adjoining are two homes on home lots known as the Aspen and Rose houses.
The lodge is a 4,007-square-foot, wood-framed building which houses a restaurant, an event room, a bar, a convenience store, an office and a deck. The restaurant and bar have capacity for 132 people. The motel is a 3,120-square-foot two-story wood-frame structure with nine rooms plus a laundry unit.
The property and facility has a "pillow count" of 90 sleeping spaces, plus managed "pillow count" of 30 pillows which allow a sleeping capacity of 120 spaces. The restaurant is full service and is fully licensed allowing bar, package and outdoor service.
"Whether you are an owner operator or an investor, this business is simple to manage and operate, plus the investment potential is backed up by the value of the assets," said John Stratman, broker associate with Mason Morse Ranch & Farm Company. "Not often does an asset-backed business opportunity come on to the open market that is throwing off 18 percent net income and priced at about a 9-percent cap rate."
Property details and photos can be found at http://www.ranchland.com. Mason Morse Ranch & Farm Company can be contacted at 970-928-7100 or 877-207-9700 for additional information or property showings.
About Mason Morse Ranch & Farm Company
"Farms Ranches Land Sales" – http://www.ranchland.com, affiliate of United Country Real Estate, is a leading provider of farm and ranch marketing services across the western United States. Founded in 1998, in the Roaring Fork Valley of Colorado, the company specializes in the sale of premier farms, ranches and recreational land across the western United States. Combined, Mason & Morse Ranch & Farm Company agents offer their clients more than 133 years of experience in farmland, western ranch and recreational real estate sales. Recently recognized by The Land Report as one of America's Top Brokerages. "Winter Edition - 2012 Year End Review Featuring America's Top Brokerages."
Mason Morse Ranch & Farm Company - affiliate of United Country is separately owned and operated from Mason Morse Real Estate of Aspen, Colorado
About United Country
United Country Real Estate is the largest fully integrated network of conventional and auction real estate professionals in the United States. The company has been an innovator in real estate marketing since 1925. United Country supports nearly 550 offices across the U.S., Costa Rica, Panama and resort areas of Mexico, with a unique, comprehensive marketing program that includes one of the largest portfolios of property marketing websites (more than 3,000 separate sites and traffic of approximately 3 million visitors per month), multiple United Country real estate catalogs with national distribution , an extensive buyer database and national advertising of local properties that reaches more than 90 million homes per week. United Country has recently been recognized by AllBusiness.com, The Land Report, Entrepreneur and The Wall Street Journal as one of the top U.S. real estate companies.
###