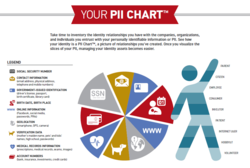 Scottsdale, Ariz. (PRWEB) March 05, 2012
At one time, personally identifiable information, or PII, was simply a Social Security number, birth date and mother's maiden name. But recent hacks, breaches and cyber attacks at some of the world's largest corporations have changed the definition of a person's identity assets to include email addresses, passwords and PINs. Additionally, consumers are giving an ever-increasing amount of confidential information consumers to a wider and wider variety of companies, government entities, organizations, and individuals.
For the 12th year in a row, identity theft accounted for the top consumer complaint according to the Federal Trade Commission Consumer Sentinel Report. As the volume of private information grows and evolves, consumers need to take a fresh look at how to protect privacy and avoid identity theft, fraud and scams. Identity Theft 911, the nation's premier identity management and data risk management services provider, is more than happy to participate in the Federal Trade Commission's 14th annual National Consumer Protection Week (NCPW) by providing the following 9 practical tips to safeguard identity assets.
1. Look at the big picture for your PII. Today, identity isn't just a password here or a number there, but an entire picture of the identity relationships you've created.
2. Create your own PII ChartTM. By category, note every relationship you have with organizations that keep personally identifiable information about you. Don't stop with the common ones, like employers, schools, doctors, creditors, banks, and email providers. Your identity lives in less obvious places, too – your online and social networking accounts; frequent flier programs; homeowners associations; churches; volunteer organizations; hobby clubs; even with household helpers and libraries.
3. Include your kids PII, too. Think daycare, pediatricians, schools, gaming and iTunes accounts, Little League associations, and summer camps. And check out our tips for parents, too.
4. Set up unique passwords for each PII category. For example, don't use the same password to log into your Facebook account that you use for online banking. Take a pass on easy access to your accounts with strong passwords.
5. Guard your mobile devices. It's inconvenient to enter numbers or a pattern every time you want to access your device, but it's even more inconvenient to have your identity stolen. Passwords provide another layer of protection from thieves getting access to your credentials.
6. Use different credit cards online and off. Dedicate a single credit card to online shopping, and don't use it for anything else. Ditto for your child's online gaming account (and NEVER link it to a debit card tied to your bank account). Follow our tips to protect credit and debit cards.
7. Set limits on who-knows-what for each part of your PII. For example, under "children's activities," do your kids' pottery and karate teachers need their complete birth dates or will month and day do?
8. Trim the amount of data you keep out there to reduce risk. Delete unneeded data on your smartphone (including "forgotten password" reset messages). Purge old files from your laptop. And if your smartphone is still geotagging photos (sometimes a default setting), consider disabling the feature. Photos are part of your PII, too.
9. Treat your identity is an asset—as valuable as cash in hand. And it's easily compromised through theft or a data breach. So become familiar all of our tips for protecting your identity.
About Identity Theft 911
Founded in 2003, Identity Theft 911 is the nation's premier consultative provider of identity and data risk management, resolution and education services. The company serves 13 million households across the country and provides fraud solutions for a range of organizations, including Fortune 500 companies, the country's largest insurance companies, corporate benefit providers, banks and credit unions and membership organizations. Since 2005, the company has helped more than 150,000 businesses manage data breaches. For more information, please visit idt911.com, facebook.com/idt911 and twitter.com/idt911.
###