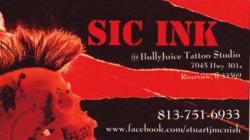 Riverview, FL (PRWEB) March 02, 2012
Tattoo Artist Stuart McNish of Sic Ink will join fellow ink artisans in celebrating the "re-grand" grand opening party of BullyJuice Tattoo Studios in Riverview, Florida on Saturday, March 10.
The public is invited to join the BullyJuice team and celebrate a year of body art achievement, beginning at 12 noon and featuring live DJs, food, and for those in the 21-and-over age group, a flowing keg. Tattoo artists Stu (McNish), Marcus, Ro, and Red will be taking scheduled appointments all day, and walk-ins will be welcome.
Visitors can join the day-long celebration, watch the artists at work, and get themselves a celebratory tat or piercing to remember the occasion. Call ahead and ask about BullyJuice's anniversary discount coupon and to schedule ink time with McNish or the in-house tat master of choice.
BullyJuice's talented artists create custom and freehand body art in a wide range of styles. McNish specializes in custom tattoo designs that run the gamut from whimsical and delicate to bold, dark, sexy and sentimental. His work incorporates bold and subtle ink colors to create striking artistic elements on human canvasses.
McNish's Sic Ink studio is sponsored by BullyJuice Custom Ink. To RSVP, visit the BullyJuice Facebook page. BullyJuice Tattoo Studio is located at 7045 US Highway 301 South, Riverview, FL 33578.
Hours of operation are Tuesday through Thursday 12 noon to 9 p.m., Friday and Saturday 12 noon to 10 p.m., and Monday by appointment.
For more information on Sic Ink, visit McNish's Facebook page at http://www.facebook.com/stuartjmcnish, or call 813.751-6933.
Press Release
Contact: Stuart McNish
Sic Ink
813.751.6933