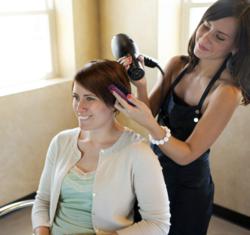 We want to help make these cosmetology dreams a reality.
Lenexa, Kansas (PRWEB) March 06, 2012
Cosmetology students dream of making the world a little more beautiful. Beauty Schools Marketing Group, the company behind the beauty school directory websites BeautySchoolsDirectory.com and BeautySchool.com, wants to make that dream come true for four dedicated cosmetology students each year.
"We're excited to announce that we are now taking applications for a $2,500 scholarship," said Bridget Duffy, Director of Beauty Schools Marketing Group. "There are so many students who dream about entering the cosmetology field, but are worried about how to pay for the cost of beauty school. We want to help make these dream careers in cosmetology a reality."
The cosmetology scholarship was featured in U.S. News & World Report and has been awarded to two lucky recipients so far. The scholarship is open to aspiring beauty school students 18 years of age or older. Interested students can use the cosmetology scholarship application to enter. The deadlines are April 30, July 31, October 31 and January 31.
Applicants answer several questions, including their most meaningful achievement and how it relates to their future in cosmetology and what issues they think are most important in the cosmetology industry today. A winner will be selected from the pool of eligible scholarship applications after each deadline. Visit Beauty Schools Directory for more information about eligibility and entering.
Beauty Schools Marketing Group provides a full suite of education enrollment services, including online lead generation, search engine optimization, email marketing, interactive lead management, television production, web site design and development, direct mail, admissions training, and media placement to more than 650 cosmetology schools nationwide. The company owns the two largest enrollment lead generation websites for the cosmetology school industry: BeautySchoolsDirectory.com and BeautySchool.com, as well as the cosmetology networking site MySocialBeauty.com. For more information about Beauty Schools Marketing Group, visit BeautySchoolsMarketingGroup.com. BSMG is a division of PlattForm Advertising.