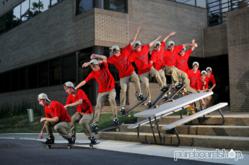 We are striving to have our website as strong of a presence as our brick and mortar store," says Robby, "Our community presence, our knowledge and customer service have always been key to our success and we wish to maintain these on pureboardshop.com" "As
Annapolis MD (PRWEB) March 07, 2012
Using new social networking tools available on the internet has enabled Pure Board Shop to reach out to its ever expanding customer base. Pure now wants to combine that with a state of the art website and turn this into more on-line sales.
Facebook has provided a fantastic platform to provide information on company events, new products and discussion boards to initiate conversations with customers for input. Pure Board Shop also uses Twitter, to provide immediate information on new product arrivals and announce new promotions, as well as to provide photo's and ideas.
Together with their social media presence, a strong on-line store will help keep Pure growing year after year.
When Pure Board Shop opened in May of 2005 they knew they had what it took to be a viable retailer in the ever growing board sports market.
The owner, Robby Roberts, also co-owned Evolve Board Shops in Annapolis and Bethesda for 10 years.
After moving to a large location in 1 of their 4 moves in a decade, Evolve tried their shot early in the e-commerce days of 2001.
By 2003, after 10 years of board sports retailing, Evolve sold its 2 store fronts and Robby went on to manage a friends board shop in Virginia.
Pure opened it's e-store in 2006 and has been steadily updating the website with pictures and inventory but has seen dwindling sales in the past few years.
Having experience with multiple store fronts, the Pure crew feels the best way to grow is with a successful e-commerce site.
With so many options the consumer has to find like products, having a much larger audience coming to our website is a better option than building out a new location.
Finding the right person to go with them and aid them on their journey into the future of retailing will be instrumental not only on their success but a profitable survival.
About Pure Board Shop:
Pure was opened in May 2005 and is much easier to get to and park than when Evolve was on Main Street Annapolis. Very convenient off Rt 97 and Rt 50 Pure is located about 20 minutes from Washington DC and 20 minutes from Baltimore. With their mix of products and diversion in skate, snow, surf and exclusive streetwear and shoe brands Pure's customers will travel to shop there. Pure prides itself on making customer service its number one priority with product knowledge and having the right product mix close seconds. The store and the website features an ever growing brand inventory such as Nike SB, Nike Snowboarding, Adidas Skateboarding, Vans, Diamond, HUF, LRG, RVCA and The Hundreds. Pure puts on monthly skateboard jams/BBQ events in their local skateboard park.
pureboardshop.com
###