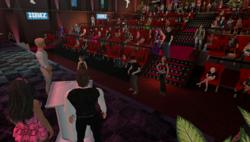 We promise that next year will be even bigger, better and more finely tuned then this one.
Vancouver, BC (PRWEB) March 03, 2012
Adult entertainment embraced its technological side this past weekend as the industry was showcased in its first ever convention held strictly in the Virtual World.
The Adult Entertainment Virtual Convention (AEVC) was hosted by RedLightCenter.com, a virtual world developed by industry leader Utherverse, and sponsored by XBIZ, CamContacts, Vstroker, YNOT, LokiCash, Sexxxtons.com, Melonson Adult Productions, Girlfriend Films and PornStarTweet.
The show brought a worldwide audience of industry professionals, fans and business owners together; and featured seminars, speaker panels, business-to-business networking along with exhibitors showcasing their products via virtual booths. The convention also tickled fan curiosity with adult star meet-and-greets and live cam sessions. It was topped off with an exciting Virtual Awards Show that bestowed winners in various categories of both real and virtual realms.
"With the success of this convention, and the valuable experience gained from its execution, we plan to continue to take the model of virtual conventions and virtual awards ceremonies to the next level," says Utherverse Chief Business Development Officer, Anna Lee. "We promise that next year will be even bigger, better and more finely tuned than this one."
The acceptance for the concept of an all-virtual convention was marked by the 8000 recorded attendees, all of whom logged in online to pass through the virtual doors over the span of the three-day event. The adult entertainment industry has always been a pioneer of technology, so it may not be long before we see more other kinds of businesses experimenting with conventions on a virtual platform.
"We will continue to develop virtual presences for all of our exhibitors, speakers and sponsors," Lee added, "so that they may continue to experience the benefits of utilizing the virtual world platform as an enhancement to their current business and marketing efforts."
The Adult Entertainment Virtual Awards Show, hosted by Vancouver comedian Patrick Maliha and internet sensation Samantha Mack, had both real world categories such "Male/ Female Porn Star of the Year" as well as ones that showcased the best of RedLightCenter.com's virtual platform, such as "Best Adult Themed Virtual World". Winners were chosen by panel which included a mix of both organizers and sponsors.
Winners of the Virtual Awards are listed as follows:
"Best Sex Toy/Pleasure Product or Company of the Year" – VStroker
"Best Affiliate Program of the Year" – DatingGold
"Best Adult Site of the Year" – Kink.com
"Best Pornstar Site of the Year" – JoannaAngel.com
"Best Verified Working Guy of the Year" – Eros_
"Male Porn Star of the Year" – Manual Ferrara
"Best Verified Working Girl of the Year" – SaphyreRose
"Female Porn Star of the Year" – Kayden Kross
"Best Adult Film" – Fighters, Digital Playground
"Best Adult Themed Virtual World" – Gangbangs R Us
"Porn Studio of the Year" – Evil Angel
The full list of categories and winners can be found at AEVC's website: http://www.adultvirtualconvention.com/awards