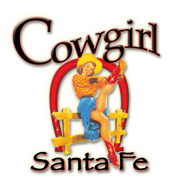 Overfield said in 2010 interview. "If I have learned anything from my endeavors, it is that everything deserves a chance in music just as it does in life
Santa Fe, New Mexico (PRWEB) March 04, 2012
Beginning at 8 p.m. on Friday, Mar. 2, Cowgirl BBQ, a featured company in both the SantaFe.com Restaurant Guide and Business Directory, serves the cool sounds of The Robby Overfield Trio. As music entertainers go this band is special for a variety of reasons. Once in a great while a band will come along that really brings stories to life with its music. This group is all about great storytelling music played with some amazing, down the core, heartfelt, down-home soul.
Band leader and lead vocalist Robby Overfield brings a great voice to the stage with the talent to tell a story with song lyrics that are incredibly moving. "Music is a process…it takes time to mature, change, evolve," Overfield said in 20120 interview, "If I have learned anything from my endeavors, it is that everything deserves a chance in music just as it does in life….what doesn't come around the first time may come back around when the timings right….like many other maturity stages in life….it needs time to grow and blossom."
"The Breaks," a 6-track EP that is the band's latest offering, is just getting wrapped by Robby and the Trio, which includes Jess Ogle on bass and Dave Rodriguez on drums. "Every track in this EP ties into the bigger picture…and for me that has been my ability to catch, or not catch, the proverbial breaks in life," says Overfield.
About SantaFe.com
SantaFe.com provides locals and visitors to Santa Fe alike the most current interactive platform for events, music, arts, business, dining and lifestyle. SantaFe.com is a division of Hutton Broadcasting, located at 2502 C. Camino Entrada, Santa Fe, NM 87507
Contact Information:
Scott Hutton
SantaFe.com / Hutton Broadcasting
http://www.santafe.com
(505) 471-1067 (Media inquiries only, please)
About Cowgirl BBQ
Since 1993 the Cowgirl BBQ, which now occupies almost the entire block where it started, includes a restaurant, a billiard parlor, a commercial catering kitchen and several private party rooms. The patio is one of the most inviting summertime venues for locals and tourists alike and the Cowgirl has become a local institution.
Contact Information:
Barry Secular
Cowgirl BBQ
319 S. Guadalupe St.
Santa Fe, NM 87501
http://www.cowgirlbbq.com
(505) 982-2565