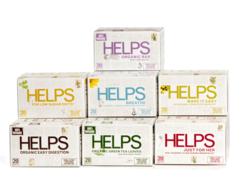 New York, NY (PRWEB) March 05, 2012
HELPS Teas, known for their adult and children's line of innovative herbal teas in the US marketplace for overall good health and well-being will exhibit at the 2012 Natural Products Expo West in Anaheim, CA.
HELPS Teas comes from Pharmadus, a global parent company that is a leader in health and wellness for over 50 years. HELPS Teas is Kosher certified and has zero artificial flavoring and no preservatives. HELPS Teas contains herbs including eucalyptus leaves and chamomile flowers that will work in sync with your system.
Pharmadus brands including HELPS Teas; Manasul, a well-known tea staple in Hispanic communities; HELPS Intense, high quality pyramidal teas; and Lateterazul, a line of gourmet teas will exhibit at Natural Products Expo West trade show on March 9-11, 2012 at the Anaheim Convention Center at booth number 683, Hall A.
HELPS Teas adult line consists of ORGANIC R&R, a combination of lemon balm and passion flower that has a soothing effect ending restless nights; BREATHE, supports respiratory and sinus functions; ORGANIC GREEN TEA LEAVES, promotes overall well-being and added bonuses include beautiful skin and anti-aging ingredients; FOR LOW SUGAR DIETS, the sugar free answer for diabetic cravings; MAKE IT EASY, does exactly as it says by regulating your bowel movements; last but not least, JUST FOR HER caters to women with menopause.
The HELPS Teas children's line is great tasting and is 100 percent plant based. Help your little one fall asleep with DREAMS; offer relief for an upset stomach with LITTLE TUMMIES, help clear their throat with BREATHE; and feel refreshed with FOR REHYDRATION DIETS.
ABOUT NATURAL PRODUCTS WEST
Natural Products West is the leading trade show in the natural, organic and healthy products industry. Natural Products West will be held March 8-12, 2012 at the Anaheim Convention Center and will play host to over 3,000 exhibits showcasing new products with an estimated 58,000 industry professionals in attendance.
ABOUT HELPS TEAS
HELPS Teas, part of Pharmadus, a leading Spanish pharmaceutical company for over 50 years delivers the highest quality all natural products to provide overall good health and well-being. HELPS Teas has an adult and children's line that has superb flavors with medicinal properties in each tea. For additional information on HELPS Teas, visit http://www.helpsteas.com or find them on Facebook and Twitter.
For more information and or press interviews, contact Tamara York of Tamara York Public Relations, email: tamara(at)tamarayorkpr(dot)com.
# # #