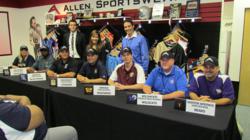 Orlando, FL (PRWEB) March 03, 2012
"Dress The Champions has brought a buzz to our community that hasn't been around here in years," beams Matt LaBranche.
Coach Matt and his team are one of the few to achieve all the components needed to become champions. One of these components was starting the year in fully sponsored top quality team uniforms provided by local company Allen Sportswear. Based in Orlando, FL, Allen Sportswear is a custom team uniform company that provides uniforms to teams looking for the highest quality and latest design innovations. The company lives by the motto "Dress Like it, Play Like it" and believes that looking good on the court or field translates to the confidence needed to excel at the highest levels of competition.
Two years ago, Allen Sportswear launched the Dress the Champions program with hopes to give back to the community and alleviate the stress on the area high school programs brought about by a tough economy and continual budget cuts. The program provides full uniform sponsorships to central Florida high schools. In 2010, the inaugural teams were selected based on their historical performance, firm ethical standards, and dedication to striving for success in every endeavor. Last year the public made the decisions, nominating more than 50 athletic programs and casting over 800,000 votes in support of more than 20 schools.
The six big winners were: Oak Ridge High School Football, Wekiva High School Men's Basketball, University High School Women's Basketball, Alonso High School Baseball, Winter Springs High School Softball, and Sebring High School Softball. Wildwood Middle High School Football was also awarded a full uniform sponsorship, even though they placed a close second in their category. Wildwood was awarded the sponsorship in recognition of their community's heroic effort to stay in the running against much larger schools. All seven schools were outfitted with two sets of brand new, fully customized, professional quality uniforms and staff apparel, valued at more than $50,000 total.
Scott Williams, head basketball coach at Wekiva High School, was vocal about the big win for his program:
"It really is a neat thing for a new school and a new program to be able to be involved in this. We are incredibly grateful to Allen Sportswear for everything that they have done. It was a great blessing to watch our school, community and parents all get involved."
High school teams are nominated by submitting an essay. The best essays are selected, and then those programs will make a short video supporting the essay. The public then votes for their favorites. There are 6 categories – Football, Baseball, Softball, Men's and Women's Basketball, and a Wildcard. The team with the most votes at the end of the voting round wins a full uniform sponsorship for one year, usually saving the school anywhere from $5,000 to $15,000.
The true goal of the program is to inspire communities to rally around their high school sports teams, and bring recognition and reward to those teams that not only excel on the field, but in life as well. The essay theme this year is "Rise Above" – how does your team rise above adversity? How does your team rise above the crowd to improve your community? How does your team rise above negative influences? Teams can answer any of these questions any way they choose.
Anyone can nominate a team, and the first one hundred people to submit essays this year will receive a customized jersey of their choice for their efforts. The deadline for essay submission to nominate a team is Friday, March 9th at 11:59pm. For more information, visit http://www.DressTheChampions.com .