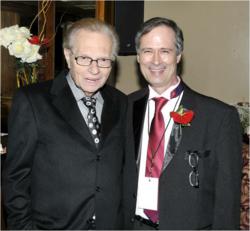 Hollywood, CA (PRWEB) March 02, 2012
Saturday, February 25, 2012, The Avalon Theater in Hollywood served as the location for the first annual Guard A Heart pre-Oscar benefit that honored Larry King with the "Guardian of Hearts" award for his work with the Larry King Cardiac Foundation. Around 1600 celebrities, sports figures, VIP's and special guests were in attendance. The Guard A Heart Foundation is dedicated to saving lives by creating awareness of heart disease and its causes.
The evening started off with a grand Red Carpet arrival featuring many celebrities; down the red carpet they walked stopping and posing for dozens of photographers and talking with reporters from various publications. Inside, a silent auction was underway with items such as vacation trips, artwork, jewelry, and sports memorabilia just to name a few.
Youngster Savannah Robinson opened the show; the 13 year old belted out "Rolling in the Deep" by Grammy winner Adele. Robinson caught the eye of Ellen DeGeneres after Ellen saw her YouTube performance. After appearing on DeGeneres' show last February, she was immediately signed to DeGeneres' record label eleveneleven in March 2011.
Willie Gualt, a former American football wide receiver and Olympic athlete, was the emcee for the evening. He introduced Estrella Harrington, CEO of the Guard A Heart Foundation.Harrington thanked everyone for coming and encouraged the crowd to get involved as Guard A Heart takes a brand new approach to fighting heart disease — through the community. "We are establishing heart health lifestyle groups that are designed to build friendships, cultivate healthy habits, create accountability and raise awareness about heart disease and its ramifications", she said.
Other performers for the evening were Midnight Red, a hip new boy band; Brandon & Savannah Hudson, a pop/country brother and sister duo; dancers Marisa Hamamoto and Allen Watts performed an electro-Tango from the 2006 movie Take the Lead (starring Antonio Banderas & Katya Virshilas), and escape artist Curtis Lovell II performed.
Dignitaries that were in attendance were Dr. Khalid Bin Jabor Al-Thani, Founder of the Qatar National Cancer Society. He's also part of the royal family of Qatar whose origins can be traced back to Banu Tamim.
Lene Righeimer was the featured speaker for the evening. Righeimer lost her daughter Rebecca suddenly in December 2003 from a sudden heart attack at the age of 4 years 8 months. She explained that it took over 2 years to get to the diagnosis of LONG QT SYNDROME. After extensive genetic testing done, they were able to diagnose their other daughter Ellie with the same arrhythmia. Ellie is now living and thriving with LONG QT by taking a beta blocker twice daily.
Honored for his work with the Larry King Cardiac Foundation, King was awarded the "Guardian of Hearts Award" by Doug Harrington, M.D., CEO of Aviir Heart Laboratories, Tom Quertermous, M.D., Director, Division of Cardiovascular Medicine (Research) at Stanford Cardiovascular Medicine, Falk CVRC and Philip S. Tsao, PhD Associate Professor of Medicine Division of Cardiovascular Medicine at Stanford University School of Medicine. Aviir is a biotechnology company founded by cardiologists and scientists at Stanford University, dedicated to the prevention of cardiovascular disease through innovative laboratory tests.
"The mission of Guard a Heart is the prevention of heart attacks through greater awareness of risk assessment options and healthy lifestyle choices," said Harrington. "So, the two foundations are very complementary and we commend them both for their dedication to reducing the devastating impact of cardiovascular disease. Since February is American Heart month, I believe that this timely award will serve a very important role in bringing public attention to these important messages."
Cardiovascular disease is the number one cause of death in the United States, with 1.2 million people having heart attacks every year - resulting in 400,000 lost lives. Although many patients do survive, they often suffer life-altering consequences. The mission of Guard A Heart is to educate people on the importance of risk assessment, starting at age 20, so the appropriate steps become a priority to prevent heart attacks.
King talked about having several heart attacks and why he founded the Larry King Cardiac Foundation. The Larry King Cardiac Foundation was established in 1988 to provide funding for life-saving treatment for individuals who, due to limited means or no insurance, would otherwise be unable to receive the treatment and care they so desperately need.
Also honored was Dr. Louis Ignarro, co-recipient of the 1998 Nobel Prize in Physiology or Medicine for demonstrating the signaling properties of nitric oxide to improve cardiovascular health and prevent heart disease. His ground-breaking work— the basis for his 2005 best-selling book, NO More Heart Disease— established Dr. Ignarro as perhaps the world's leading authority on the nutritional approach to cardiac wellness.Corporate Sponsors Kyani presented Dr. Ignarro with his award; representing Kyani were Lora Thomas, Chris Cannon and Senior Vice President of Marketing Steven Hatch.
For more information about Guard A Heart, please visit http://www.GuardAHeart.org.
Guard A Heart Foundation
Jeff Astegen
888-658-5937
Info(at)GuardAHeart(dot)org
http://www.GuardAHeart.org
"The H.O.M.E. Foundation Supports Guard A Heart and Their Mission"
About The H.O.M.E. Foundation:
The Helping Others Means Everything, or The H.O.M.E. Foundation, is a not-for-profit organization dedicated to helping our Family of Charities. Frank Verdugo, President of The HOME Foundation, wants to help as many worthy charities as possible as they struggle during these tough economic times. Frank Verdugo helps raise funds through luxury dream home raffles, prizes, and high profile celebrity events in Hollywood... "Our mission is to help charities reach their fundraising goals and to bring awareness to their praiseworthy causes." Please visit our Dream Home Raffle at: http://www.HOMEFoundationRaffle.com and http://www.facebook.com/HOMEFoundationRaffle.
# # #