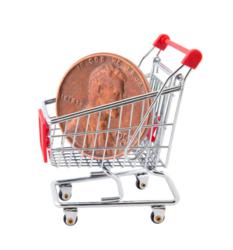 Remember, 70% of U.S. GDP is consumer spending. While our politicians might tell us different, 2012 is shaping up to be a very weak year for the economy.
New York, NY (PRWEB) March 05, 2012
There is a general theme of weak consumer confidence, rising commodity costs, and inflation, according to Michael Lombardi, lead contributor to Profit Confidential. In his recent article, World's Largest Retailer, World's Largest Food Maker: What They are Telling Us About the Economy, Lombardi states that the consumer is struggling and that the financial results of companies such as Wal-Mart are a reflection of falling consumer confidence and demand.
"Even Wal-Mart noted that consumers are worried about rising food costs and rising energy prices," says Lombardi.
Wal-Mart Stores, Inc. reported its quarterly earnings, missing Wall Street estimates because its price-cutting strategy reduced margins. Lombardi says that Wal-Mart's typical customer is the low-income shopper, who is not exhibiting much consumer confidence right now.
"Wal-Mart is focused on reducing its costs, like pulling more greeters from the entrances. This is because the company does not see an ability to raise its prices in 2012, as consumer confidence struggles," says Lombardi. "With the unemployment rate high, job security uncertain, and food and energy costs rising, consumer confidence is nowhere to be found."
The challenge, according to Lombardi, becomes maintaining or lowering customer prices, while Wal-Mart's input costs rise as the cost of commodities rises. While Wal-Mart hopes that commodity prices will remain relatively stable in 2012, Lombardi notes that, if central banks around the world continue to print, this may not be possible.
"Remember, 70% of U.S. GDP is consumer spending. While our politicians might tell us different, 2012 is shaping up to be a very weak year for the economy," says Lombardi.
Profit Confidential, which has been published for over a decade now, has been widely recognized as predicting five major economic events over the past 10 years. In 2002, Profit Confidential started advising its readers to buy gold-related investments when gold traded under $300 an ounce. In 2006, it "begged" its readers to get out of the housing market... before it plunged.
Profit Confidential was among the first (back in late 2006) to predict that the U.S. economy would be in a recession by late 2007. The daily e-letter correctly predicted the crash in the stock market of 2008 and early 2009. And Profit Confidential turned bullish on stocks in March of 2009 and rode the bear market rally from a Dow Jones Industrial Average of 6,440 on March 9, 2009, to 12,876 on May 2, 2011, a gain of 99%.
To see the full article and to learn more about Profit Confidential, visit http://www.profitconfidential.com.
Profit Confidential is Lombardi Publishing Corporation's free daily investment e-letter. Written by financial gurus with over 100 years of combined investing experience, Profit Confidential analyzes and comments on the actions of the stock market, precious metals, interest rates, real estate, and the economy. Lombardi Publishing Corporation, founded in 1986, now with over one million customers in 141 countries, is one of the largest consumer information publishers in the world. For more on Lombardi, and to get the popular Profit Confidential e-letter sent to you daily, visit http://www.profitconfidential.com.
Michael Lombardi, MBA, the lead Profit Confidential editorial contributor, has just released his most recent update of Critical Warning Number Six, a breakthrough video with Lombardi's current predictions for the U.S. economy, stock market, U.S. dollar, euro, interest rates and inflation. To see the video, visit http://www.profitconfidential.com/critical-warning-number-six.