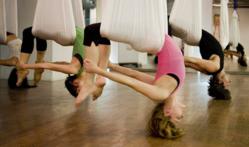 Ttrainers are grossly lacking even the basic business skills to start and maintain a business.
Chino Hills, CA (PRWEB) March 04, 2012
Bedros Keuilian, known as the 'hidden genius' behind many of the top earning six and seven figure fitness trainers in the industry set out to build a resource site to help educate, inform and set industry best standards five years ago this March. Since the inception of PTPower.com, it's become the number one site for personal trainers and fitness boot camp operators seeking to get real world marketing, sales and business systems guaranteed to grow their business.
In a recent Alexa.com comparison PTPower.com scored a global traffic rank of 144,517 - the best in it's class. "Each and every day I find new ways to grow my business, deliver better service, and exceed my clients expectations just by visiting PTPower.com" says; Cara Eckerman, owner and operator of Fit Body Boot Camp Chino Hills.
The reason for the rapid success of PTPower.com is because of the lopsided nature of the fitness industry. For nearly twenty-five years the fitness industry mainly stressed education in training protocol, nutrition, and kinesiology pumping out very capable fitness trainers who are grossly lacking even the basic business skills to start and maintain a business. "This is a recipe for failure, at the very least for mediocrity because well educated fitness professionals end of working in big box gyms where they are unappreciated and severally underpaid" says Bedros Keuilian, founder of PTPower.com and himself owner of a successful fitness center.
Since it's launch is March of 2008 PTPower.com has helped over 41,000 fitness trainers become better fitness entrepreneurs though it's free educational videos, reports, and courses as well as live seminars, personal coaching programs, and information products. In that same time Bedros Keuilian's fitness business prowess and unique ability to teach fitness and boot camp marketing systems has helped hundreds of fitness trainers create multiple six figure and seven figure businesses in an economy where most health and wellness practitioners are going out of business.
In celebration of it's five year anniversary PTPower.com pledges to donate a portion of it's revenue generated in the month of March to Shriners Hospital for Children, a none profit hospital organization that delivers much needed medical services to children who's families can not afford it.
PT Power is a fitness marketing and fitness business consulting organization dedicated to assisting personal trainers attract more clients and generate more income. The organization is based out of Chino Hills California and is headed by Bedros Keuilian, a fitness trainer who launched the Fit Body Boot Camp franchise and still continues coaching, consulting and mentoring thousands of fitness professionals who have achieved what fitness trainers consider the ultimate success. Personal Trainers who wish to learn more about coaching and consulting with Bedros Keuilian can visit http://www.ptpower.com for more information.
Contact Information
Bedros Keuilian
Keuilian Health and Fitness
(800) 261-0208
http://www.ptpower.com