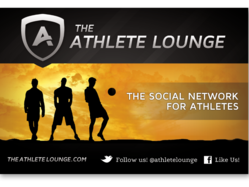 The Social Network for Athletes.
Anaheim Hills, California (PRWEB) March 05, 2012
The Athlete Lounge today announced its website and social network launch into sports communities worldwide. The Athlete Lounge is a robust social networking experience, comprised of athletes, coaches, fans, photos, videos, and fresh content. Athletes finally have a place to showcase their highlight reels, interviews, and other media in a well-designed manner. The site will also feature contests with great prizes, outstanding athlete interviews, a discussion forum, and the potential for massive exposure to recruiters, coaches and fans.
Sports fans and athletic people everywhere will benefit from a new resource to find sports teams in their area, network with others, and learn more about their favorite sports from a reliable source. Coaches and recruiters will benefit from a fully compliant resource from which to learn about and network with amateur and professional athletes, other coaches, and fans. Coaches can create teams, invite their players to join the team, and can even post things like practice, game schedules, team stats, video's, photos, and any last minute updates that only the team can view. Coaches can also contact the entire team at once, making communication simple and effective. Users may likewise choose their schools attended (or create them if they don't exist) and invite their colleagues to join their school.
Athletes will benefit from having the ability to feature their own profile, including education, photos, videos, blog posts, and more. Athletes can also research schools based upon their interest in a sport. Like other users, Athletes can participate in the forums, and may also find their content featured and shown on one of the site's main sections. Players benefit from having a centralized location to access up-to-date information about their team.
The Athlete Lounge, the social network for athletes, gives players and coaches the ability to coordinate, communicate, and showcase themselves in a professional manner. The Athlete Lounge is the brainchild of Geno Rose, an entrepreneur in Anaheim Hills, Calif., and was developed by Examp, a web design firm in San Diego, Calif. Mr. Rose, a player, coach, and entrepreneur, wanted to fix some of the daily issues of coaching,, and knew that there must be some way to keep in touch with athletes as time goes by, while remaining compliant with sports regulations and without being too intrusive on the players lives.
The Athlete Lounge is fully internationalized, with no content-based location restrictions. The site currently supports English only, but more language packs will come soon. Coaches, Athletes and sports fans are encouraged to check out The Athlete Lounge and sign up today to claim their personalized URL before someone else does. The Athlete Lounge announced a "refer a friend challenge" on their site. The user who refers the most people to log into TheAthleteLounge.com will win a free Apple iPad, courtesy of The Athlete Lounge, challenge ends December 31, 2012.
Follow us on Twitter @AthleteLounge
Follow us on Facebook "The Athlete Lounge"