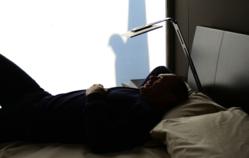 Enjoy your iPad as never before, hands free
New York City, New York (PRWEB) March 12, 2012
The ARM has been designed having in mind all the people who need to use the iPad hands-free (without mentioning the utility for people with disabilities or forced in bed for prolonged time).
10 months of perfectioning and reengineering, redesigning and prototyping to make the ARM as simple and functional as ever….. with the reliability, the proper look and necessary ergonomics to match the Apple devices.
The ARM has been engieneered and manufactured from premium material: it's made of ultra high grade aluminum Laser cutted and CNC machined. The ARM is totally adjustable using positioning hinges strong enough to hold and keep the iPad in any desired position.
The ergonomics is unique… your iPad is just in front of your eyes… no distractions when working or studying.The ARM's lenght is calculated and tested for the maximum human sight comfort when watching the tablet screen, as in bed as on the desk.
The ARM will be machined and assembled in USA. The project is currently funding on kickstarter.com and need your help to get funded and brought it into production.