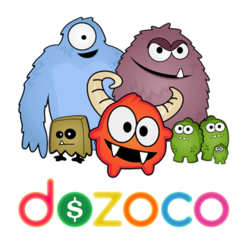 We're a new site with fabulous retailers, great cash back rebates and a relatively small user base - it's the perfect recipe to drive referrals
Washington, DC (PRWEB) March 06, 2012
Coupons & cash back shopping site dozoco.com, today announced the launch of a new referral program that pays $5 per qualified referral + super bonuses from $20, up to $500 for high volume referrers such as bloggers, site owners and heavy social networkers, who could earn $1000+ per quarter.
"This is a real green field opportunity for bloggers and site owners to make money", stated Bill Lynch, CEO dozoco.com. "We're a new site with fabulous retailers, great cash back rebates and a relatively small user base - it's the perfect recipe to drive referrals."
Consumers can earn cash back rebates from nearly 500 brand name retailers, by starting their online shopping at dozoco.com. By simply clicking on the "shop now" button, the consumer will be redirected to the individual retailer of their choice. Once at the selected retail website, the consumer shops as they normally would, paying the same prices they would otherwise. The only difference is that the consumer will receive an additional cash back rebate on every purchase made, by simply visiting the dozoco.com website first.
"Dozoco always offers highly competitive cash back rates but as an added incentive to help drive registrations and suppoort our new referral program, we will be aggressively increasing cash back rates on a rotating selection of popular merchants", added Bill Lynch, CEO dozoco.com
Referrers will receive a $5 bonus for each qualified referral, defined as a new dozoco user who signs up using the referrer's custom link and makes a purchase of $25 or more earning cash back. All referrers are eligible for super bonuses from $20 up to $500 as detailed on the dozoco referral program.
About Dozoco
Dozoco.com is a leading shopping website, where consumers can find coupons and earn cash back rebates from hundreds of retailers. Dozoco doesn't actually sell anything directly to consumers, but rather helps consumers save money on the purchases they make at leading online retailers, by providing them with coupons and cash back rebates on goods and services they were already planning to buy.
Consumers, partners and press interested in lerning more about dozoco.com can visit the website at http://dozoco.com or email us at contactus@dozoco.com