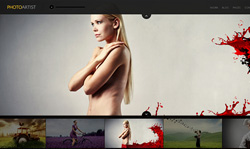 PhotoArtist is our response to all creative people who want to show their work to the world in a way that's visually appealing.
Bucharest, Romania (PRWEB) March 05, 2012
ThemeFuse - leading provider of original WordPress themes has launched a new theme - PhotoArtist - for customers desiring to launch a professionally looking website showcasing photography or any kind of other visual content. The theme can be downloaded from ThemeFuse's website, and then installed in less than five minutes.
PhotoArtist has been designed to work with one of the most popular website management platforms - WordPress - an open source system widely supported by every major hosting provider.
The theme presents a full-screen photo slider as the central element of the whole design. There are no limitations in terms of image size (dimensions) that can be used within the design, which is often the case for other WordPress themes.
PhotoArtist is our response to all creative people who want to show their work to the world in a way that's visually appealing," said Dimi Baitanciuc - co-founder of ThemeFuse. "The theme has been designed for photographers, photo enthusiasts, graphic designers, and other artists who want to start a portfolio website or a photo blog of any kind."
The aforementioned homepage slider lets users to display full-screen photos, along with titles and descriptions. Every photo can be easily assigned to the slider - no web development or programming skills required. Also, a "full-screen" only look is available with features that give the viewer more control over the presentation of the photos. For those who want to see only the images, with a couple of clicks you can get rid of all the UI elements that get in the way.
"We provide a variety of themes for different customers with different needs and computer skills. This new theme - PhotoArtist - uses a fully customizable design that provides not only the main full-screen mode, but also a classic blog look containing sidebars, headers, footers, widget areas, and navigational menus that we're all familiar with," said Dimi Baitanciuc.
For customers who want to get started immediately, ThemeFuse provides a feature called "One Click Auto Install." All the initial settings and sample data is set into the theme after a click of a button, so no customer has to spend time on entering this data by hand, like they would have in many standard WordPress themes.
"As always, we've taken care of providing our customers with a range of Shortcodes that are the lazy man's - and easy - way of creating well-designed boxes, tables, charts, or interactive maps, and then having them included within the content," said Dimi Baitanciuc.
Additionally, ThemeFuse went ahead to offer their users a very friendly support area along with a comprehensive online documentation.
For more information, and details on how to get and install PhotoArtist please visit http://themefuse.com/wp-themes-shop/photo-artist/
About ThemeFuse:
ThemeFuse, a commercial WordPress theme shop, focuses on original out of the box design and ease of use for every type of user. ThemeFuse aims at providing their customers with themes that can make every website stand out from the crowd, and also offers dedicated support around the clock.