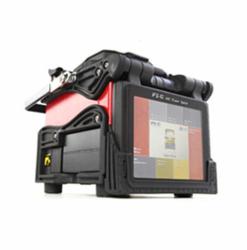 The Fujikura Killer!
Phoenix, AZ (PRWEB) March 03, 2012
eFiberTools.com, a leading provider of fiber optic splicing and testing tools and supplies for the telecom and broadband industry, will demonstrate the IFS-10 fusion splicer from Inno instrument at the OFC/NFOEC – 2012 conference in Los Angeles March 6-8, 2012. The demonstration at the OFC/NFOEC will focus on this and other advanced features of the IFS-10 fiber splicer, and ruggedness and resistance to dirt, water and the pounding of daily use.
eFiberTools is the main distributor for Inno Instrument in the US and rest of North America, handles retail and wholesale distribution, and service and repairs for Inno. At the show, eFiberTools will be showing in amazing demonstration video of the IFS-10 in action and performing flawlessly while being subjected to dirt, water and excessive vibration while performing fusion splicers. It's an impressive video and demonstrates the capabilities of this essential tool.
The Inno IFS-10 fusion splicer promises to be a game-changer in the field of fusion splicers do to its outstanding splicing quality and that it is the only single fiber, core alignment fusion splicer in the US market priced under $10k truly comparable to the Fujikura FSM-60S which currently is the best-selling model. Plus, at only $9990 for the full kit, the Inno IFS-10 is priced 40% less than the FSM-60S.
The IFS-10, which is Inno's second generation fusion splicer, uses core-alignment technology called DACAS--Digital Analysis Core Alignment System and clearly offers the best value of any other brand. Since his introduction, the IFS-10 has been wildly popular with Inno making up 70% of fusion splicers sales in Korea, where it's manufactured. A similar outcome is expected in the US market as the company and the splicer becomes better-known.
"A Fujikura Killer!"? …At a recent London expo and unnamed Fujikura employee was reportedly overheard calling the Inno IFS-10 "A Fujikura Killer". As they have done in Korea Inno's latest fusion splicer is well on the way to living up to that description. Sales have been exceptional, especially when considering that it's only been available in the US for a few months.
MONEY-BACK GUARANTEE! Contact eFiberTools for details on their exclusive money back guarantee on the Inno IFS-10 splicing kit. Or, how to get an Inno IFS-10 kit shipped to your business for a one-week free demo.
Be advised that eFiberTools is now in booth #1541 at OFC/NFOEC. This was a last-minute change and was a great opportunity to get into an excellent location at expo. Look for their corner booth in the middle of the show floor.
ABOUT OFC/NFOEC
For 37 years OFC/NFOEC has attracted the biggest names in the fiber optics industry. The OFC/NFOEC is now the largest global conference and exposition for optical communications and networking professionals. OFC/NFOEC stands for Optical Fiber Communication Conference and Exposition (OFC) and the National Fiber Optic Engineers Conference (NFOEC).
OFC/NFOEC is a one-stop-shop for those looking to get the latest products and information and on FTTx, networks, fiber splicing equipment, test and measurement, optical grids, optical packets, ROADMs, coherent systems, WDM-PON and much more.
ABOUT EFIBERTOOLS.COM
EFiberTools offers some of the best values in fiber optic tools and supplies, and stocks a wide range of fusion splicers, OTDRs, optical test and other fiber optic equipment, optical cable and connectivity, and much more.
By shopping worldwide, eFiberTools.com is able to offer both brand-name and no-brand products such as fusion splicers, OTDRs, optical power meters, light sources, loss test sets, fault locators, fiber identifiers, interferometers, talk sets, fiber inspection, and including optical cable and connectivity products and more.
TRADE-INS WANTED! Trade-in your existing fusion splicer and other equipment for a new Inno IFS-10, or for anything they sell. Generous trade-in credits given for working and nonworking equipment.
Rent fusion splicers and OTDRs at eFiberTools.com. They carry a wide selection at competitive pricing. Rental periods include day, week, month or longer.
SELL YOUR SURPLUS EQUIPMENT to eFiberTools.com. The company is always looking to purchase surplus fiber optic equipment and excess inventory, as well as other capital assets used in photonics, semiconductor, test equipment, biotech, electronics and other high-tech industries.
Visit their store in Phoenix, AZ at 329 W. Melinda Ln., Phoenix AZ 85027, Monday through Friday, 7:30 am - 4:00 pm. Phone toll-free (877) 773-3423 or direct (623) 582-5560. For additional product information, or to purchase, sell or trade equipment visit their store at http://www.efibertools.com. E-mail info(at)efibertools(dot)com.
Be sure to check out the specialty blog at http://www.FusionSplicers.org for news, information and resources on fusion splicers and fiber splicing tools, techniques, maintenance and more. Submit your articles and even thoughtful comments to FusionSplicers.org for backlinks to your website.