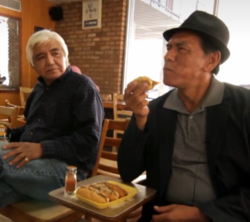 Showcases Oklahoma's extraordinary culture.
Tulsa, OK (PRWEB) March 07, 2012
Although This Land Press hasn't even turned two years old yet, it's garnering attention from all over the globe for its world-class reporting and innovative approach to journalism. With This Land TV, the new media company is turning more heads by launching a new statewide television show on The Cox Channels 3, 703 and On Demand. The series premiere is scheduled for Wednesday, March 7 at 7pm.
"We've gathered some of Oklahoma's most talented filmmakers and given them a canvas to showcase Oklahoma's extraordinary life and culture," explains This Land's editor and founder Michael Mason. "A television show is simply part of our evolution as a new media company."
The show, titled "This Land," is produced and directed by Sterlin Harjo and Matt Leach. Harjo's films have appeared at Sundance Film Festival, while Leach's work has been showcased at SXSW and other major festivals. Each episode will feature a half-hour of short documentaries focused on life and culture in the middle of the country. The first episode features notable Oklahomans like S.E. Hinton, author of "The Outsiders," and actor Wes Studi (Avatar, Last of the Mohicans)/
"Many of our segments focus on ordinary, every day people," says Harjo. "Yet these people are exactly what makes Oklahoma such a curious and interesting place to live."
In addition to the television show, This Land will debut a new iPad app that combines multimedia productions into one slick, highly-entertaining and informative package. Each digital issue will cost $3.99 and will be available in the Apple iTunes store.
Along with the launch of the TV show and the iPad app, This Land Press is also expanding into the Oklahoma City market with distribution of its print edition and the coverage of statewide events and entertainment listings, called "Do What OKC" and "Do What Tulsa." The "Do What" listings are powered by This Land and represent a new source for Oklahoma events and culture described as the best things to do in Tulsa and Oklahoma City.
Called "a rare example of literary journalism on the community level" by Columbia Journalism Review, This Land Press has earned international recognition from media companies like Huffington Post, Harper's, TIME, MSNBC.
With the launch of its new TV show and iPad app, This Land looks poised to be a major presence in the Oklahoma media community. With over 34,000 fans & followers, This Land already manages one of Oklahoma's largest media communities on Facebook, dwarfing those of most other media companies in the state.