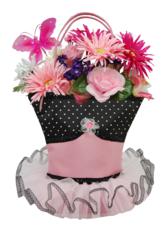 Sassi's Tutu bags were a beautiful final touch to our Recital! What a wonderful gift!
Seabrook, TX (PRWEB) March 05, 2012
Sassi Designs has joined ASI and SAGE to introduce uniquely decorated "blank" bags for the Promotional Products Industry. Each bag is constructed of excellent quality materials and workmanship representing the highest quality on the market today. Unique designs include zebra, dalmatian, polka-dot, damask, hearts or flower prints. Each bag is decorated with grosgrain ribbons, boa, sequin trim, fringe, bows and/or embroidery. Additional features include multiple pockets, secure top zipper or magnetic closures and a matching Personal I.D. Tag. Blank bags can be embellished and all Sassi bags can be personalized.
The uniquely designed bags provide a welcome solution for the Promotional Products Distributor looking for award gifts, gift with purchase, individual or team bags such as dance, recital, cheer, drill, gymnastics, soccer, swim, tennis, spirit awards or special event gifts and more. The bags are perfect for fundraisers and competitions.
Sassi Designs LTD is a design, marketing and importer working directly with factories in China. Sassi designs and over sees the manufacturing of bags sold to specialty stores and Promotional Products companies. Bags are stocked in Sassi's warehouse in the Houston, TX area, ready for immediate shipment. In addition, to stock items, a Special Order Program is available for creating custom designs.
Whatever the occasion or activity, Sassi makes bags that are perfect for a memorable gift. Sassi enjoys the opportunity to design bags that make any occasion special and add to the excitement extracurricular activities bring. Watch this company grow as they introduce more products to celebrate the myriad of opportunities a 21st Century Girl enjoys.
About Us:
Sassi Designs is located in Seabrook Texas, a popular southeast suburb of Houston, near the Clear Lake NASA area. Established in 2004, Sassi has enjoyed very strong and successful years. Products can be found in specialty Dancewear, Gymnastic and Cheer Shops, Children's Stores, Gift Stores, Toy Stores and Embroidery Shops in the U.S., Canada, Central America, Japan, U.K., Australia, New Zealand and Korea.