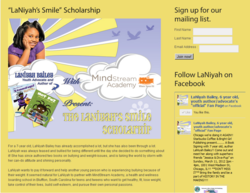 Bluffton, SC (PRWEB) March 05, 2012
Two time youth author on weight loss and anti bullying, LaNiyah Bailey, announces the dedication of scholarship funds to attend MindStream Academy. LaNiya's Smile is a special scholarship award providing financial assistance to students aged 12 to 17 in their fight for a stronger, healthier body and mind and renewed self esteem.
"Taking action and helping with solutions to anti bullying and battling obesity is really important to me," said 7 year old LaNiyah Bailey. "I wanted to team up with MindStream Academy who is solely focused on helping kids get healthy and fit and feel good again. "
LaNiyah Bailey is not only an inspiring youth advocate, but was recently recognized as one of "TheGrio's 100: History Makers In The Making." Released by theGrio.com, a division of NBC News, the list includes 100 African-American men and women who are writing the next chapter of American history.
The MindStream Academy was the brainchild of president Ray Travaglione as a groundbreaking way to begin addressing the needs of our youth in their battle against childhood obesity. MindStream Academy offers both a year round program as well as a summer program under the daily guidance of chefs, dieticians, fitness instructors, educators and counselors. "We are very excited to be working with such a dynamic young advocate in our joint fight against bullying and weight loss for youth" said Ray Travaglione. "By providing the tools and resources these kids need, we are confident they will not only meet and exceed their individual weight loss goals, but help them create the mind set to go back into their homes and communities and pursue their passions in life."
For parents and youth wishing to apply for LaNiyah's Smile scholarship, applicants are encouraged to go to http://www.mindstreamacademy.com to sign up. LaNiyah's Smile is a gift of financial assistance issued from LaNiyah Bailey to a young person age 12-17 to attend MindStream Academy. Scholarship recipients will be determined by their compelling story as well as youth who most exemplify LaNiyah's message of tolerance, understanding, and hope.
About MindStream Academy:
MindStream Academy (http://www.mindstreamacademy.com) is a full-service boarding school on a pristine 43-acre horse farm in South Carolina for teens and tweens who want to get healthy, fit, lose weight, take control of their lives, build self-esteem, and pursue a personal passion.