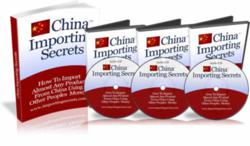 Three trillian dollars a year of Chinese products are imported into the United States every year. Being a Chinese importer presents significant business opportunities.
Austin, TX (PRWEB) March 09, 2012
Shoestring Publishing announces a new course called "Chinese Importing Secrets", that examines how to import from China. According to Justin Douglas of Shoestring Publishing, the opportunities are better than ever.
Perry Belcher is the author of the course, whose career has taken him through many successful startups including making over 100 million dollars in sales of his own products, and he says Chinese imports have been one of his best ventures. In this course, Mr. Belcher shares the insider secrets. He says "I have been importing goods from China for almost 15 years now and it really amazes me that more internet marketers don't do the same. It's amazing how easy it is to be profitable and truly bring value to people. I remember at the very first of the dot-com boom the big buzz was that the business world would be changed forever because the supply chain would be slashed. Basically, manufactures and importers could sell their goods directly to consumers without the distribution channel eating up all the profits and driving up the costs."
While some venture capital providors and teachers like Paul Graham of Y Combinator teach students how to start a startup business with sizable investments, Mr. Belcher teaches students how to start a startup with little or no money, or how to use other people's money including bank credit. Many of Mr. Belcher's recommended startups require zero money to start. Mr. Belcher says "I'm here to tell you Chinese importing totally works! Imagine you sell hand dryers, like the kind in restrooms. These things are like $400 retail but from my supplier in China there $34 bucks! I can sell them online for $199, or 50% off retail, and sell 100+ every month, just with simple PPC."
Mr. Belcher says his biggest rule is to find products that would be hard to find locally in a good size town. "If you can't find it at home where do you look? GOOGLE!" he says. "I've had success in the past hand dryers, stanchions (look it up), sausage grinders, liquid fillers, key control cabinets and a bunch of other weird niches. Take it from one who has hung up his info product boots, physical products are where it's at, and they always will be."
The course comes with over ten bonuses including other courses that help the business startup student with accounting, sales, social media marketing on Facebook and Twitter, legal questions, a free business forms kit, and much more.
For more information, visit the course website for How To Import From China: http://www.chinaimportsuccess.com.
About Shoestring Publishing
Shoestring Publishing is the premier mentoring and teaching company for new small business startups in the world, with each course being led by entrepreneurs who collectively have earned hundreds of millions of dollars in the businesses they teach about. They are the premier online publisher of "extra income opportunities" that anyone can use to earn additional income. Unlike 99% of the so-called "opportunities" that promise to make millions overnight, the Shoestring Publishing mission is to show legitimate methods to earn a little extra income in a short period of time. Shoestring Publishing brings the very best in business startup courses to the public. They don't promise to make their students millionaires, but they do promise to show REAL strategies for earning extra cash that don't involve any special skills or a massive learning curve. All students need is an internet connection, an open mind and a willingness to learn.