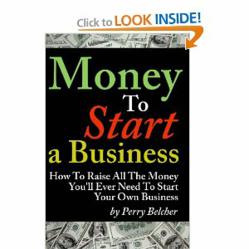 The reason to raise money is to pay for those things in the startup process that you don't have the money to handle yourself."
(PRWEB) March 10, 2012
A new book from Shoestring Publishing is helping new entrepreneurs locate money to start a startup business. According to Justin Douglas of Shoestring Publishing, "capital to fund your project is always a need for every business owner. Fortunately our startup courses at Shoestring Publishing usually teach you how to start a startup with little or no money of your own. But veteran investor Perry Belcher has made 100 million dollars of his own money selling products and now he is an investor, and in his new book he shares how to find the money to start a business."
Starting a business often requires both knowledge and money, and veteran startup expert Perry Belcher offers knowledge and information about how to fund a startup with his book "Money To Start A Business: How to raise all the money you'll ever need to start your own business." Mr. Belcher has been regarded as one of the top three copy writers in the world and he is now an investor himself. His work raising money for literally hundreds of his own business ventures has given him the insight and experience that he shares in this book.
Mr. Belcher says, "I've bootstrapped a lot of businesses in the past. I've had the privilege of going through the SBA lending process through a partner, I've dealt with venture capital firms; I've dealt with angel investors, private offerings, I even got very near to taking a company public, so I've dealt with pretty much all the stages of financing that you can go through. I've been involved in many startup companies over the past years."
For those entrepreneurs who are serious, Mr. Belcher's book covers most questions and information you will need to have to fund a business. For those who might not be serious, Mr. Belcher does give good advice regarding the potential downside to business ventures. He says "Running a business is hard. Starting a business is harder." Many aspects of accepting outside funding are covered in the book, including the challenges. Mr Belcher says When you're starting a business, having to deal with it, you have a whole other element of reporting and accountability to deal with in an investor or a funding partner. "They're going to be something that takes part of your time. They're actually partners with you now. Once they're investing in your business, they basically become your partner."
"You're going to have to answer to performance milestones if you're dealing with angel investors or venture capital companies, and even a lot of loans. Along your financing path, they're going to want to know how things are going, what's going on. There is going to be a lot of reporting. The more transparent you are with them, the better they're going to feel about you. 'Hey, I'm just too busy,' isn't going to work. More importantly, though, I know what they're not looking for: the reasons people won't loan you money, won't fund your project, or won't invest. Most of the time, this is more important than why they will. If you know their red flags, you have a big advantage."
Overall there are many great advantages to having investment capital Mr. Belcher explains, and his book covers these as well as the best times to ask for capital in the development of a business.
"There are a lot of reasons you need to raise money when you start a startup business, but the biggest reason is the single largest reason businesses fail: under-capitalization," Mr. Belcher says. "Most people who start a business don't have the proper amount of funds to get through the learning curve of the business. Especially if people haven't run a business before; if you're brand-new to something, you're definitely going to have a learning curve. It takes a period of time, typically, to acquire customers, establish vendor relationships, things like that. You're sort of raising money to buy time. A lot of the time you need assets, you need equipment, you need particular things that require tools for your business that you're going to have to raise money for depending on what you're doing. The reason to raise money to start a business is to pay for those things that you don't have the money to handle yourself."
Check out the book at its Amazon.com page "Money To Start A Business".
About Shoestring Publishing
Shoestring Publishing is the premier mentoring and teaching company for new small business startups in the world, with each course being led by entrepreneurs who collectively have earned hundreds of millions of dollars in the businesses they teach about. They are the premier online publisher of "extra income opportunities" that anyone can use to earn additional income. Unlike 99% of the so-called "opportunities" that promise to make millions overnight, the Shoestring Publishing mission is to show legitimate methods to earn a little extra income in a short period of time. Shoestring Publishing brings the very best in business startup courses to the public. They don't promise to make their students millionaires, but they do promise to show REAL strategies for earning extra cash that don't involve any special skills or a massive learning curve. All students need is an internet connection, an open mind and a willingness to learn.