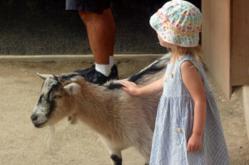 The petting zoo business can be good if you already like animals or have ever taken care of animals.
(PRWEB) March 13, 2012
"The new course on how to start a petting zoo is fantastic for startup entrepreneurs who are ready to try a business, and the petting zoo business can be good if you already like animals or have a little extra land where you could put animals," explains Justin Douglas of Shoestring Publishing. "There is a little bit of a learning curve for taking care of animals that is explained in the course, but if you already have some knowledge of farm animals then it is a natural fit. The course has everything a startup owner would need to know to succeed and it is taught by people who have made a lot of money in petting zoos. The course is designed for the average person to be able to learn how to start a petting zoo and start the startup business."
"In the recession today, a lot of people would like to start a business," Mr. Douglas explains. "And what we've done at Shoestring Publishing is to take the amazing successes of people like expert marketer Perry Belcher and create courses that show you how to start your own business. Perry has sold over 100 million dollars of product online, and all the core teachers of the Shoestring courses have major success and experience in starting startups."
Shoestring courses include niches of all types, including Chinese importing, curb painting, ice cream trucks, hot dog carts, consignment shops, petting zoos and many more niches. For those who are wondering how to start a startup, the course comes with the "Startup Bootcamp" - a three part audio series that covers all the basic business aspects that the student should know to start their petting zoo business.
"This is just one of our courses," Mr. Douglas says. "Shoestring Publishing has many other fantastic courses focusing on other types of businesses that the average person can start on their own with little or no startup capital."
For the recession, this is good news, says Mr. Douglas. Instead of standing in a long job line trying to find work, Mr. Douglas points out that the course will let you create your own job and become the boss. "Who can fire you if your the boss, right? Once you have your own business you appreciate being able to chart your own destiny, and the course we teach helps you make the correct decisions along the way and avoid mistakes. We make these courses so you can succeed in these startup ventures."
For more information, visit the website for How To Start A Petting Zoo.
About Shoestring Publishing
Shoestring Publishing (http://www.ShoestringStartups.com) is the premier online publisher of "extra income opportunities" that anyone can use to earn additional income. Unlike 99% of the so-called "opportunities" that promise to make millions overnight, the Shoestring Publishing mission is to show legitimate methods to earn a little extra income in a short period of time. Shoestring Publishing brings the very best in business startup courses to the public. They don't promise to make their students millionaires, but they do promise to show REAL strategies for earning extra cash that don't involve any special skills or a massive learning curve. All students need is an internet connection, an open mind and a willingness to learn.