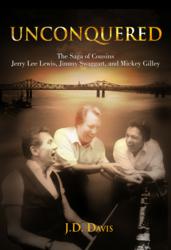 God, the devil, and everything in between. This book represents the duality plane on which we exist.

- Leon Russell, legendary musician and Rock and Roll Hall of Fame member
Dallas, Texas (PRWEB) March 07, 2012
The Killer, the Thriller, and the Fulfiller - Three Cousins Inseparably Bonded Through Music. Each Rose To Fame, Their Stories Becoming legend. Coming May 1, 2012 - pre-order today.
New biography "UNCONQUERED: The Saga of Cousins Jerry Lee Lewis, Jimmy Swaggart, and Mickey Gilley," (Brown Books Publishing Group) by J.D. Davis of Dallas, Texas offers readers an eye-opening look inside the personal and professional lives of famous cousins Jerry Lee Lewis, Jimmy Swaggart, and Mickey Gilley.
All born within a twelve-month span in small-town Louisiana during the Great Depression, Davis draws from exhaustive research and personal connections with friends and family to recreate the irresistible and life-changing power of music that surrounded the cousins as boys, and shaped their engagingly distinct paths to fame.
Thought provoking, "'Unconquered' clearly depicts the fascinating story of three great musical artists who were cousins in real life but icons in the world of music," says Tom Schedler, Louisiana Secretary of State. "Each man conquered life's roadblocks to acheive his ultimate goals."
"God, the devil, and everything in between. This book is a great representation of the duality plane on which we exist," says Leon Russell, legendary musician and Rock and Roll Hall of Fame member.
Acclaimed country music artist Neal McCoy says, "Being from the South and also in the music business, this book gave me a great insight into how these three guys grew up as cousins, as well as what made them choose the paths that eventually turned them all into the hugely successful names that the entire world knows and loves."
Three personal journeys set alongside important landmarks in pop-culture history, Davis reveals a unique tale of American music centered on the trials, tribulations, and achievements of three men who remain truly Unconquered.
Songwriter and recording pioneer Cowboy Jack Clement adds, "'Unconquered' tells the fascinating story of three men growing up in the Mississippi Delta - and how they overcame hardships to become the amazingly talented men we know today."
TO LEARN MORE OR TO PRE-ORDER VISIT: http://www.UnconqueredTheBook.com - available at bookstores everywhere.
# # #