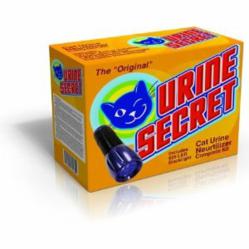 Cat urine odor removal is only seven seconds away with a new product from Planet Amazing.
(PRWEB) March 16, 2012
Cat urine odor removal is only seven seconds away with a new product from Planet Amazing. According to Justin Douglas of Planet Amazing, "Urine Secret" is the latest in their catalog of environmentally friendly non-toxic home solutions. "The cat urine smell is an embarrassing problem that is actually easy to treat," says Mr. Douglas. "Cats sometimes become angry or have an emotional reason to avoid the litterbox, and now this problem can be solved in seven seconds with our new product 'Urine Secret'. The product comes with instructions on how to remove cat urine and removing the smell of cat urine from anywhere in your house including carpet. This odor eliminator is a two-part mixture that has 60 packets so you can actually use it 60 times."
About 100,000 people search on Google each month for solutions to the cat urine odor problem, suggesting that it is a common problem that affects many homes. "You can treat carpet, remove the cat urine smell from carpet, hardwood floors, furniture and other places in your home in seven seconds, so there is no time lost," Mr. Douglas says. "It is virtually impossible to remove the cat urine smell with standard cleaning solutions, but our non-toxic 'Urine Secret' product will do it in seven seconds and that is fantastic."
For more information or to purchase "Urine Secret" cat urine odor remover, visit the Amazon.com page.
About Planet Amazing
Planet Amazing creates products for pet care, home cleaning and maintenance that are EPA approved and also organic, non-toxic and environmentally friendly. Planet Amazing's catalog of household products are safe for family, friends, kids, plants and pets. In the modern world it is common for people to want to treat the environment kindly. Planet Amazing is dedicated to providing these products and also to eliminating its own environmental footprint as a lifestyle of sustainable living as a business. The staff at Planet Amazing works with scientists and environmental researchers to find and provide new and innovative solutions for home remedies, cleaning and maintenance that will follow a strict environmentally friendly policy so that customers can trust in the Planet Amazing brand and products as reliable and safe.