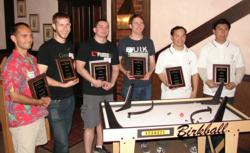 Was awesome!" says Florin Basca.
San Jose, CA (PRWEB) March 05, 2012
The winners of the Gold Award were: Geoff Anders and Florin Basca.
The winners of the Silver Award were: Victor Tan and Tuong Nguyen.
The winners of the Bronze Award were: Marco Barreno and Leon Barrett.
Shown in the photo are Marco Barreno, Leon Barrett, Florin Basca, Geoff Anders, Tuong Nguyen, and Victor Tan.
Birkball is an active, multiplayer, table game. Unlike billiards or foosball, which use sticks or pegs to propel balls, Birkball uses steerable chutes. These chutes enable all four players, on two teams, to have an impact on the target ball at the same time. Players don't have to wait for their turn.
Play consists of rolling steel balls down steerable chutes across a field into a target ball to move the target to the other's team back wall. Randomly rolling steel balls present a constantly changing pattern of obstacles.
Birkball is a trademark of the Action Games Company.