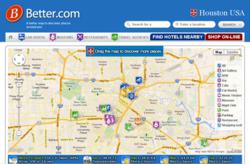 A better way to search and discover businesses and other places.
(PRWEB) March 06, 2012
Internet users looking for a better way to search and discover businesses and other places around them have an exciting new online solution that will revolutionize their search experience: Better.com.
Better.com automatically identifies the visitor's position, and displays - using friendly icons - the places around them -- such as hotels, ATMs, restaurants, businesses, shops, parks and more. Visitors can drag the map to discover more places, or use the search feature to target a specific place by typing country, city, area, zip code, place name or business name. They can also book a hotel or shop online.
Plus, Better.com coverage is worldwide, allowing visitors to discover places across town, across the country, or across the world – and all in a matter of seconds. This makes it ideal for both local discovery and businesses travelers and tourists.
Additionally, Better.com provides visitors with dynamically-generated content that is specifically targeted to their location. This includes news videos, news articles, weather reports and other content. When visitors opt to change their location, the dynamic content instantly changes with them.
On the commercial side, Better.com provides businesses with a powerful and effective geo-targeted advertising and promotional platform. It's a cost-effective, results-focused way for businesses to be found and engaged quicker and easier than their competitors.
"Better.com is not an ordinary search engine, it's an entirely new way to visually discover what's around you," commented marketing executives Karen Williams at Better.com. "And it's also a powerful new way for businesses to advertise. With Better.com, instead of waiting for visitors to input what they're looking for, businesses can proactively reach out and say: `welcome, we're in your neighbourhood, why not drop by or give us a call?' Simply put, Better.com is a better way for visitors to easily find what's around them, and for businesses to be seen and found online."
Better.com currently covers the entire globe, with more places and cities being added on a daily basis.
For more information or media inquiries, call 1 (866) 218-4908 or email media(at)better(dot)com.
About Us
Better.com. is a revolution in online discovery at the local, regional and international level. It empowers visitors to visually see what's around them, and allows businesses to proactively attract attention to their offerings. Learn more at http://www.better.com