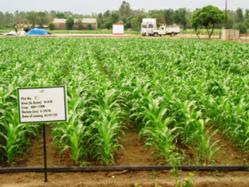 Agricultural Sciences @ ScienceAlerts.com
Mannheim, Germany (PRWEB) March 05, 2012
ScienceAlerts.com is a Web 2.0 social network to discover and share scholarly content in in the basic and applied sciences of agriculture, biology, environment, forestry, geography and health. While this new website has been operating on an on-invitation only basis for some time, it went fully online on Tuesday, February 28, 2012. 17,416 members have signed up and actively contributed content to the site. The new Agricultural Sciences category currently features 84,000 stories largely derived from over 240 scientific agriculture publishing sources.
ScienceAlerts.com's Agricultural Sciences Category covers the cultivation and production of crops, raising of livestock, and postharvest processing of natural products. It currently contains 83,996 stories partly derived from over 240 scholarly agriculture journals. This category also provides an Agricultural Sciences RSS feed which is one of the best and most popular ways of staying up to date quickly with the latest research in this applied science discipline. One of the latest articles provides an overview of striped catfish (Pangasianodon hypophthalmus, Sauvage, 1878) aquaculture in Bangladesh. While farming of the striped catfish is a major aquaculture activity in Bangladesh, particularly in the district of Mymensingh, farm management practices and the socio-economic impacts of pangasius farming systems in Mymensingh have not yet been adequately described in the literature. This article provides an overview of the present status and characteristics of pangasius culture in Bangladesh and the authors conclude that this aquaculture system has improved the economic and social status of a variety of stakeholders in communities where the fish is farmed. Another article presents molecular diagnosis of mango malformation disease and phylogeny of Fusarium mangiferae. Mango malformation disease (MMD) caused by various Fusaria, including the fungus Fusarium mangiferae, is difficult to diagnose and cannot be controlled effectively. The authors study a PCR diagnostic tool which was developed for detection of F. mangiferae by generating primers which flank fungus-specific sequences. They discovered relatively high genetic variation between various isolates of the pathogen based on amplified fragment length polymorphism (AFLP) analyses.
Besides the Agricultural Sciences category, ScienceAlerts.com contains a Biological Sciences Category which covers life and living organisms, including their structure, function, growth, origin, genetics, and distribution. ScienceAlerts.com's Environmental Sciences Category covers the external physical conditions affecting growth, development, and survival of organisms, and their management while it's Forestry Sciences Category covers the cultivation, maintenance, and development of forests. ScienceAlerts.com's Geographical Sciences Category covers the physical characteristics of the earth including its surface features, and the distribution of life on earth, and that of the Health Sciences covers the effects of disease and medical treatment on the overall condition of organisms.
ScienceAlerts.com's review process is partly automated and partly manual to rigorously ensure that only relevant content is featured on the site. Since new science content is discovered in real-time, the delay between original publication and appearance at ScienceAlerts.com is usually only minutes. ScienceAlerts.com includes a search feature to retrieve specific titles or keywords from its' large database. In addition, it suggests up to ten related articles for each article selected. The site also maintains the new Twitter account @Science_Alerts.